Press release
April 30, 2015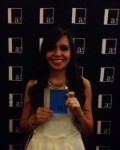 Pounce Consulting design team was granted the 1st place in the a!Diseño International Design Awards celebrated in Mexico City for the product TableSafe. The digital bill folder device enables patrons to pay with bank cards without the cards ever leaving their possession, thereby protecting against credit card and identity theft.
Press release
April 30, 2015
Tech Company Pounce Consulting wins Gold prize in the 28th International Arch of Europe Convention Frankfurt 2015 for Global Quality and Innovation. The IAE is part of the annual program of BID Awards celebrated in Europe where leading companies from 179 countries compete each year
Press release
April 16, 2015
Technology partnership to design and produce an innovative solution for GoPro and DSLR camera owners. The GNARBOX is a pocket-sized device that brings to users unprecedented ease to editing and sharing high-definition media files using just a mobile application.