Press release
April 17, 2019

New Cavern Clubs for Brazil, Canada and China
Press release
December 8, 2015

A tribute to PTSD victims all around The World
Press release
December 4, 2013
Or at least that's the plan, when they this year release their popular Christmas song number 10.
Press release
October 12, 2009
Rising Star Artists features new music by recording artists with sizzle, sex appeal and star potential. Music fans get to find new music before it's released or has hit the airwaves. Looking to expand beyond the top 40? Here's your chance.
Press release
September 13, 2009
Carl Lester-El Has An Impressive Musical Resume. Lester-El Has Power Over Melody, Is A Prolific Song Writer And Has An Extensive Collection Of Music That's About To Go Public.
Press release
September 10, 2009
screw-u-records/universal federal sign new artist wylout of inglewood ca.
Press release
September 9, 2009
Tragedy Turns Rainbow 95 into serious station
Press release
August 28, 2009
By Devon Wendell
Press release
August 3, 2009

First detailed interview singer Martha Velez has given on her legendary 1969 blues album Fiends and Angels with Eric Clapton, Jack Bruce, Paul Kossoff , Christine McVie, Mitch Mitchell. Revelations: Jimmy Page almost played on album & Martha Velez was asked to sing with Jimi Hendrix at Woodstock
Press release
August 3, 2009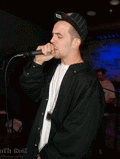 MADMAN MEZZY IS NO NEW KID ON DA UTAH BLOC' The Miltown Source Magazine August 2, 09 8:23 (Central)