Press release
April 10, 2013
Many companies that think they have innovation problems don't have an innovation problem. They have a leadership problem in most cases.
Press release
July 26, 2010
In today's modern world, being independent from a financial point of view is one of the most important things.
Press release
July 26, 2010
Do you need debt help? Are you looking for debt management?
Press release
July 12, 2010
Winters in Edmonton are rather cold and all of us require those furnaces to keep ourselves warm.
Press release
September 23, 2009
Tough economic times spike demand for Bachelors degree at Almeda University
Press release
September 9, 2009
Local Food Movement film released…Locavore: Local Diet, Healthy Planet
Press release
August 28, 2009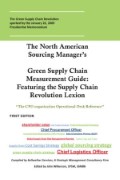 John Wilkerson authors the First Edition of the Green Supply Chain Professional Development Series, Green Supply Green Supply Chain Measurement Guide & Lexicon. This is a MUST READ for business leaders seeking to understand U.S. Carbon Cap & Trade.
Press release
April 25, 2009
Job Creation, Construction and Infrastructure Improvements, Workforce Development Focus of Tribal Community Investments
Press release
April 25, 2009
Will be Joined by U.S. Senators Byron Dorgan and Kent Conrad, U.S. Rep. Earl Pomeroy and North Dakota Governor John Hoeven