Press release
October 27, 2015
Surround sound
Auro-3D
DTS:X
Steinway Lyngdorf, maker of the finest sound systems in the world in partnership with Steinway & Sons, is proud to announce shipping of its latest product, the pioneering Model P200 surround sound processor.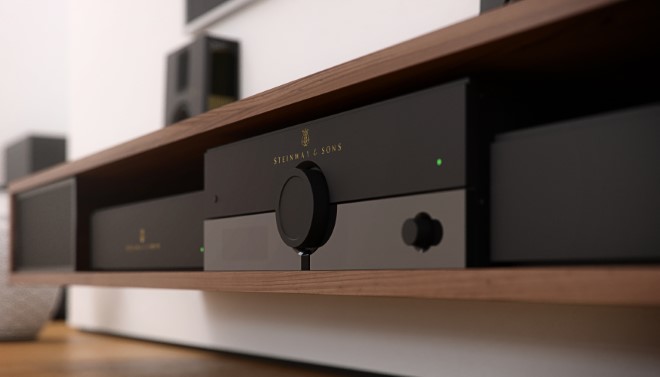 The Model P200 is equipped with the advanced technologies for which Steinway Lyngdorf is known, including RoomPerfect™ and fully digital signal processing. Capable of handling up to 256 output channels, the Model P200 offers full support of 3D surround formats Dolby Atmos®, DTS:X, and AURO-3D®. It also has advanced HDMI switching and supports 4K and 3D video and HDCP 2.2. With these features, the Model P200 delivers digital high-definition surround sound experiences that the world has never heard.
The Model P200 will begin shipping worldwide at the end of October.
Immersive Surround Sound
Immersive surround sound installation is set to become a defining market trend in coming years. With Dolby Atmos®, DTS:X, and AURO-3D®, filmmakers can now add height and top layer elements to a soundtrack for the most realistic cinema-sound listening experience ever created.
The Steinway & Sons Model P200 will work with these technologies in a remarkably versatile approach that allows for unlimited creativity in installations. The Model P200 offers full support of every audio format on the market, including immersive surround sound formats. And there's no need to pick sides; at the touch of a button, you can switch between speakers placed at the positions recommended for any specific format, or have your speakers be optimized for one and let the Model P200 intelligently optimize the audio for the other formats.
RoomPerfect™ Room Correction
Like its award-winning predecessor the Model P1, the Model P200 surround sound processor is equipped with RoomPerfect™, the world's most sophisticated technology for adapting the sound system to the environment.
With RoomPerfect™ you are guaranteed market-leading sound without compromise to performance or interior design. The Model P200 delivers a perfect surround sound experience equally well to living rooms, media rooms, and home theaters, with virtually no need to design the room acoustics around the sound system.
Advanced HDMI Switching
The Model P200 features advanced HDMI switching capabilities and can handle up to five separate 4K video streams simultaneously, allowing routing from any HDMI input to any output with unique On Screen Display for each stream. It can also show four inputs on one screen (tiling), or split one input to be shown on four screens as one coherent video-wall.
Fully Digital
The Model P200 is 100% digital without sound-deteriorating digital-to-analog conversions. Unlike analog, which inevitably adds its own flavor, the fully digital Model P200 processor ensures sound is replayed completely intact, delivering the purest sound possible.
Fully digital processing in combination with fully digital amplifiers by Steinway Lyngdorf keeps the audio stream entirely in the digital domain, while maintaining full resolution of the original signal. This means nothing gets between you and your sound.
DCI-Compliant Digital AES/EBU Input
For movie aficionados, the Model P200 offers an optional upgrade with a 16-channel DCI-compliant digital AES/EBU input for integration with digital cinema servers.
HDBaseT™
Increased flexibility is easily achieved through HDBaseT™, a feature set that converges uncompressed full HD digital video, audio, and 100BaseT Ethernet through a single LAN cable, allowing you to run the signals up to 100m/300ft.
Energy Efficient
You don't have to sacrifice efficiency - or the environment - for quality. The Model P200 uses significantly less power and generates less heat than a traditional analog setup. Energy-efficient design automatically turns off unused amplifiers when in stereo mode, and it draws less than .5 W in stand-by.
Control Options
Multiple control options including RS232, remote web interface, IP-control, and ihiji offer total control and assurance.
Full System Approach
The Model P200 can only be used with amplifiers and speakers from Steinway Lyngdorf. The legacy of absolute perfection that comes with the Steinway & Sons partnership cannot be attained with a mix of "off the shelf" products from different manufacturers. No chain is stronger than the weakest link, and the full system approach ensures high efficiency in every aspect.
Specifications
Name
Model P200 Surround Sound Processor
Color
Available exclusively in anodized matte black and glass
Placement options
Rack mount or freestanding
Manufactured
Designed and manufactured in Denmark
Price Range
$18,000 MSRP
Release Date
Now
Availability
Worldwide through a network of selected partners
Key features
RoomPerfect™ Room Correction
Dolby Atmos®
DTS:X
AURO-3D®
Video tiling and split screen display processing
HDCP 2.2
4K resolution
Video scaling
3D video
Fully Digital
Full System Approach
Optional 16 ch. DCI-Compliant Digital AES/EBU Input
HDBaseT™
Energy Efficient
Capable of handling up to 256 output channels
Decoding
Dolby Atmos®, Dolby Digital, Dolby Digital EX, Dolby Digital Plus, Dolby TrueHD
DTS:X, DTS ES Discrete 6.1, DTS ES Matrix 6.1, DTS 96/24, DTS-HD High Resolution Audio, DTS-HD Master Audio
AURO-3D®
Post processing
Dolby surround, AURO-MATIC®, Dolby Pro Logic II, Dolby Pro Logic IIx, Dolby Pro Logic IIz, Dolby EX, DTS Neo:6, DTS NEO:X
Audio Inputs
1 x AES/EBU S/P-DIF input
3 x S/P-DIF coaxial inputs
4 x S/P-DIF optical inputs
1 x USB audio input

Up to 384kHz, 32bit PCM
DSD64 and DSD128

1 x balanced stereo analog input (XLR)
4 x single ended stereo analog inputs (RCA)
1 x multichannel single ended analog input (RCA)
1 x microphone input (XLR) for RoomPerfect™ calibration.
Optional 16 ch. DCI-Compliant Digital AES/EBU Input
Video Inputs
Audio Outputs
5 x Steinway Lyngdorf Digital Links
1 x single ended stereo analog output for secondary audio output.
1 x SPDIF coax digital output
Video Outputs
4 x HDMI™
1 x HDBaseT connector
Miscellaneous in- and outputs
1 x DB9 RS232 connector
2 x IR sensor inputs
1 x IR output (loop from one of the sensor inputs)
1 x trigger input
4 x trigger outputs
1 x RJ45 Ethernet LAN connector
2 x USB connectors
1 x SD card slot (storage for system software and settings)
Interface options
RS232
IP
Web Interface
ihiji
Remote App on iOS and Android platforms
Dimensions
Freestanding (H x W x D)
13.8 x 45.0 x 34.2 cm
5.4 x 17.7 x 13.4 in
Rack mount (H x W x D)
13.3 x 45.0 x 34.2 cm
5.1 x 17.7 x 13.4 in
Weight
7.6 kg / 16.8 lb
Website
###
About Steinway Lyngdorf
SL Audio A/S, dba Steinway Lyngdorf, was founded in Denmark by audio innovator Peter Lyngdorf in 2005 to design, develop, and manufacture sound systems and components under the umbrella of two legendary brand icons: Steinway & Sons and Lyngdorf Audio. The mission of SL Audio A/S is to serve music and film connoisseurs who seek unprecedented innovations in the technology of pure sound. The company pushes the boundaries for audio performance with the development of proprietary new technologies including RoomPerfect™, the world's most advanced room correction system, and true digital amplification which premiered in the ground-breaking Millennium, the first fully digital amplifier in the world. SL Audio A/S markets its products and licenses its technologies to selected worldwide partners and is an original equipment manufacturer for other renowned audio companies.
Steinway Lyngdorf, the only manufacturer of audio products to win the exclusive endorsement of legendary piano manufacturer Steinway & Sons, provides fully integrated digital audio systems that combine design artistry, exquisite craftsmanship, and perfected technology. Steinway Lyngdorf brings together Steinway & Sons, makers of the world's finest pianos for more than 160 years, and Peter Lyngdorf, one of the most forward-thinking audio innovators of our time. For more information, visit www.steinwaylyngdorf.com.
About Steinway & Sons
Since 1853 Steinway pianos have set an uncompromising standard for sound, touch, beauty and investment value. Steinway remains the choice of 9 out of 10 concert artists, and it is the preferred piano of countless musicians, professional and amateur, throughout the world.
Press Contacts:
The Americas
Katherine Spiller
+1 (212) 588-9330
EMEA
Per Henneberg Klausen
+45 9614 5600
Asia-Pacific
Eddie Lim
+65 6838 7725
Subjects
---
Surround sound
Auro-3D
DTS:X