Press release
May 31, 2009
Business
New Innovative Dog Leash Makes National Debut
Sling International introduced its new innovative dog leash to the market on May 27th, 2009 with a national cable tv campaign. The Sling Leash was developed to provide a long-needed solution to two of the biggest issues dog owners face while walking their dogs, comfort and control.
For many years there have essentially been only two options available to dog owners when it comes to choosing a leash, the regular leash with a looped handle made of a heavy-duty material such as leather or the popular retractable leash that allows the dog to walk at varying lengths from the handler. What the makers of Sling Leash noticed, however, was that neither of these common styles provided an effective solution to the comfort and control problems dog owners deal with daily.
On comfort, consider this: most regular leashes feature a looped handle that is wrapped around the handler's wrist, which can cause serious discomfort and pinch the skin when it becomes tightened by the dog's pull. With the retractable leash it is usually housed in a bulky plastic casing that one has to lug around. And when it comes to having control over of the dog these leashes place all the leverage in just one place, the single hand of the handler, which allows the dog to drag and pull the handler in every which direction.
"Not anymore", say the developers of Sling Leash. Using its patent-pending design the Sling Leash acts as a regular leash for when your dog is relaxed and features a comfortable soft-foam grip that is easy on the hands. Early customers are calling it "the most comfortable leash ever". It also offers a specially designed mechanism that allows the handler to convert to the "sling position" when your dog becomes excited or begins to exert a strong pull. With this easy-to-use feature the handler converts to the sling position in just one simple motion, increasing their leverage by over 400% by distributing the force of the dog's pull to the entire arm and shoulder area, rather than just the hand, thus providing the "Brakes".
Although there has been a string of other products that have been developed over the years that attempt to address this problem, such as choke collars and pinch collars, they feel these are not dog-friendly and incorrectly focus on trying to address the problem on the dog's side instead of with the handler.
Whether the three life-long friends from S. Florida that make up Sling International have heard the "barks" for help and have responded with a solid answer to these long-standing issues will be determined later. But for now they certainly feel they are barking up the right tree! To learn more visit www.SlingLeash.com.
Subjects
---
Business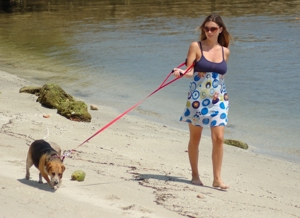 Sling Leash in use...with crocodile lurking close behind!
Download | 2 MB | 1733 x 2385 | .jpg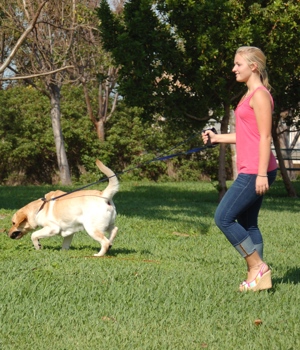 Sling Leash being used in regular position...like a regular leash.
Download | 1.55 MB | 2000 x 1712 | .jpg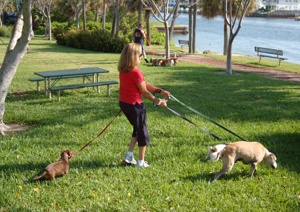 Taking multiple dogs for a walk without the Sling Leash
Download | 1.94 MB | 1774 x 2512 | .jpg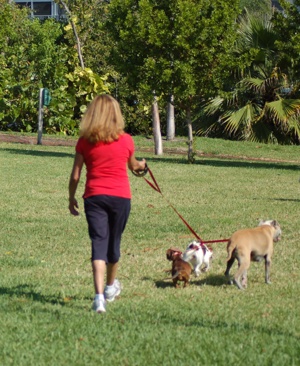 Taking multiple dogs for a walk with the Sling Leash and its multi-dog attachments
Download | 1.28 MB | 1927 x 1578 | .jpg
Full length 2 minute Sling Leash commercial
Download | 16.74 MB | .wmv
View our instructional video with slight blooper ending!
Download | 19.43 MB | .wmv
Zip and download all files