Press release
March 25, 2015
Copenhagen, Denmark, March 25th 2015 - New Product, WarmIToes, launches on Kickstarter, and aims to solve the issues of having wet and cold feet at the office, while at the same time pledging to increase user comfort. The creators set out to make a solution that was both practical but also in a stylish design, and that would fit in visually under any desk.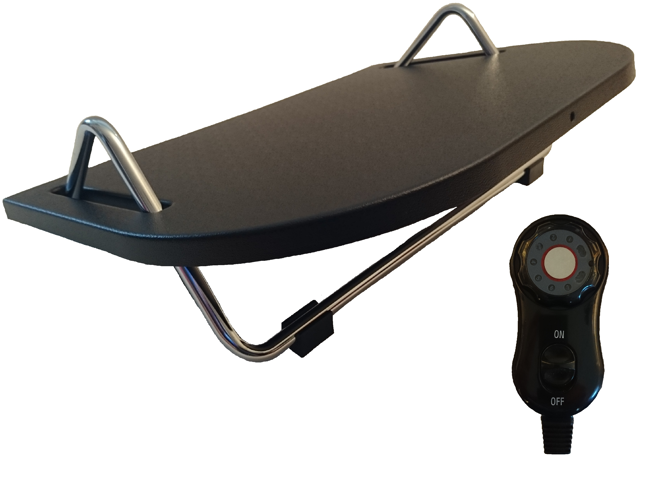 InnovoTime have launched its Kickstarter campaign on March 25th with their new product WarmIToes. As the name implies, WarmIToes is created with the purpose of keeping you warm from the feet up.
The creators explain that the idea for the product came from experiencing people coming into the office with wet and cold feet in winter time, and how they would some time put on extra cloths or add a heater under their desk. "This made us think, that there should be a better solution, and this is why we came up with WarmIToes" says InnovoTime Co-Founder Hanafi Mughrabi.
WarmIToes is developed with a focus on design and space saving, without compromising comfort. It has a large heated surface area, where you can rest your feet, and can be angled by a light touch of the feet to adjust to your preferred sitting style. WarmIToes is designed to give you an experience of personalized floor heating right under your desk. To set the temperature level, WarmIToes comes with a stepless controller, that can be placed within reach on your desk.
"With our cold winters and the amount of time we spend at work, we anticipate that WarmIToes will benefit a lot of people" says InnovoTime Co-Founder Jacob Petersen.
The WarmIToes Kickstarter campaign will run from March 25th to April 24th, with the goal of raising $100.000.
We all spend a great amount of time at work, why not do it in comfort?
https://www.kickstarter.com/projects/642461531/warmitoes-personalized-floor-heating-right-under-y
###
InnovoTime is an innovative and dynamic company that focuses on developing technical solutions.
InnovoTime has existed since May 2013 and is founded by Jacob Petersen and Hanafi Mughrabi. The company has since its beginning focused on developing its own products as well as provide consulting services in software development.
Kickstarter is a global crowdfunding platform based in the United States. The company's stated mission is to help bring creative projects to life. Kickstarter has reportedly received more than $1.5 billion in pledges from 7.8 million backers to fund 200,000 creative projects. People who back Kickstarter projects are offered tangible rewards and one of a kind experiences in exchange for their pledges.