Press release
August 19, 2012
Tourism
iBooknow.com has instantly confirmed hotel bookings across Germany for the 2012 Oktoberfest celebrations. Book early and get the deepest discounts available without any hidden charges or fees.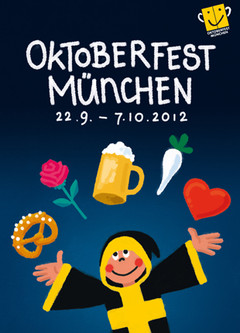 For sixteen days every fall people flock to Germany to join in the yearly Oktoberfest celebrations. Held annually in Munich, Bavaria, Germany, between late September through the first week of October it has become the highlight of the fall season and one of Germany's most renowned holidays. Oktoberfest 2012, the 179th annual event, will be held between September 22nd and October 7th.
Originally held in 1820 in Munich, cities across Germany, and around the world, celebrate Bavarian culture, German beer, and the harvest season. Over 5 million people attend the Munich celebrations and it has become the world's largest fair on record and the fairgrounds encompass over 103 acres of space in an area known as Theresienwiese.
The 5 million attendees consumed nearly 7 million liters of Oktoberfest beer during the past few year's celebrations, and 2012 will surely see as much along with traditional German foods such as roast chicken and pork, sauerbraten, grilled ham hocks and skewered fish, homemade sausages with sauerkraut, giant pretzels, potato and bread dumplings, potato pancakes, German cheeses, and confections. If for some reason beer is not your drink of choice there will be over 120,000 liters of wine and sparkling wine served at Oktoberfest as well.
Every year over thirty breweries bring their beers to Oktoberfest to be served in the giant tents that dot the fairgrounds. Served in 1 liter steins the beers price average for 2912 will be between 9.10 and 9.50 Euros a piece. Along with drinking and tasting the great foods on offer the two weeks of celebrating are filled with all manner of contests, shows, music and parades.
The first Sunday of Oktoberfest is when the costume and uniform parade is held. With over 7,000 performs participating it is a chance for people to view all the colorful Bavarian history and culture when all the women are in traditional Bavarian dresses called Dirndls and the men are outfitted in their best Lederhosen. Watch marching bands, rifleman, and even horses, oxen, goats and cows as they parade along in a three-mile procession.
The second Sunday of the Oktoberfest event is reserved for music. With over 400 musicians performing during an open-air concert visitors join in, sing along and dance the day away while enjoying Munich's particular brand of hospitality.
With close to 75% of the visitors to Munich's Oktoberfest being Germans, and the rest coding from all around the world iBooknow.com highly advises those travelers who wish to attend Oktoberfest 2012 to book now and have their accommodations instantly confirmed so they can plan their rest of the holiday with ease and confidence.
A few hotels within walking distance of the Theresienwiese and the 2012 Munich Oktoberfest are:
A&O Hotel Munich
Arthotel Munich
Four Points by Sheraton Munich
Central Hotel Andra
Hotel Bavaria
Hotel Maritim Munich
Hotel Seibel
Pension Haydn
Don't hesitate and miss pout on all the great Munich hospitality and beer. Log on to iBooknow.comand plan your autumn 2012 holiday in Bavaria today.
About iBooknow.com
iBooknow.comwas established in 2008 as a one-stop destination for people wishing to book holidays and business trips around the globe. iBooknow.com offers a wide range of services to our customers, including discounted hotel bookings, car hire and exclusive promotional pricing not found anywhere else through our industry network and partnerships.

From the start, iBooknow.com has always been more than just a travel site. The staff at iBooknow.com care deeply about the reputation of the company, and they will always go the extra mile to ensure that you have a great stay as you travel around the world.

Unlike other travel sites, the prices that iBooknow.com offers include all fees and charges up front. With iBooknow.com, what you see is what you get. iBooknow.com will always make sure that you are getting the cheapest possible room rates, so there is no need to trawl through dozens of sites to find the best available deal.

iBooknow.comhas continually grown and progressed to servicing a worldwide clientele who travels globally, but they still treat every customer as if they were a guest in their home. iBooknow.com's experience servicing traveler's needs and requests is philosophically local, but global in scope. Travel and Hospitality are their passions.
###
Subjects
---
Tourism