Press release
August 25, 2020
Naturli Foods
Naturli´
Joe Kurt
Food and Beverage in US
The breakfast habits of the consumers are turning green – just like the rest of their meals. Therefore, Naturli' – who has been the market leader for plant-based foodstuffs in Denmark since 1988 – now launches a complete series of 100 % plant-based yogurt named Joe' Kurt. The taste, color and texture of these products are similar to those of traditional animal yogurt. Offering their plant-based yogurt, the company expects to be present on ten different export markets within the next two years.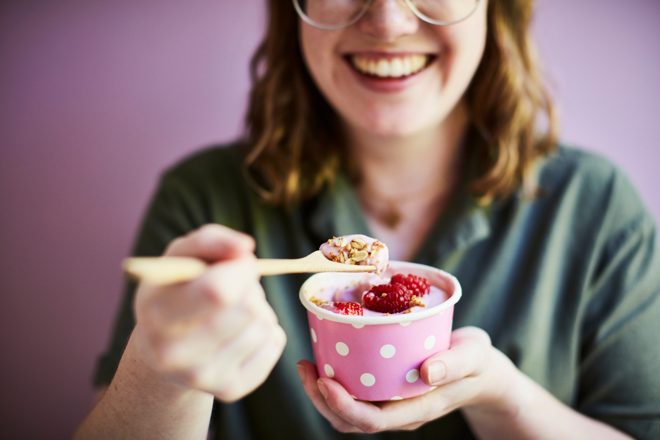 At the moment, Naturli' is filling up the cold counters in Danish supermarkets with plant-based yogurt and the company is ready to export the products to many other countries. Naturli' is internationally known and acknowledged for producing 100 % plant-based foodstuffs that can be used to substitute minced beef, chicken, milk and butter. And now also yogurt. Within the last two years, Naturli' has launched 17 new plant-based products on 17 different markets.
1-to-1 – same taste, color and texture
"People all over the world eat yogurt and, in our experience, people have no problem exchanging traditional yogurt for a plant-based one. In Denmark, four out of ten consumers say that they are prepared to go for the plant-based version as long as it tastes just as good as the one made with cow milk. We expect a similar tendency in many other countries", says Henrik Lund who is CEO at Naturli'.
Through the social media, Naturli' has already received inquiries from consumers in Germany, Sweden, Netherlands and England from people wanting to know when Joe' Kurt will be launched in their country.
The new plant-based yogurt can be used 1-to-1 instead of traditional animal yogurt, and this applies to both taste, color and texture. Several taste tests have been carried out, showing that people cannot tell the difference in taste between the plant-based and the traditional version.
A breakfast revolution
Henrik Lund expects the new Joe' Kurt series – prepared with European almonds and featuring various popular tastes – to be part of a breakfast revolution, starting in Denmark and then spreading to the entire world.
"Consumers have brought out their spoons and are ready to taste the plant-based version. For this reason, we have been working hard for the past couple of years in order to produce the perfect taste and a creamy texture. We have been testing and testing until our test volunteers turned green", Henrik Lund explains.
Wanting to protect our animals and the climate are two of the most important reasons why consumers would choose plant-based yogurt. In Denmark, 35.6 % of consumers say that the climate influences their food choices. Henrik Lund points out, however, that shouting "plants!" and reminding people of climate protection and animal welfare is insufficient. The foundation of new eating habits remains a fantastic taste that the consumers like just as much as "the good old one".
"Plant-based yogurt from Naturli' tastes of a greener future. It leaves a good taste in your mouth – in more than one way", says Henrik Lund.
Facts
In Denmark, Naturli' will launch five 100 % plant-based yogurts named Joe' Kurt. For the new markets, Naturli' will develop those tastes that are popular in each individual country.
Same creamy texture as traditional animal yogurt. The taste is balanced and mild.
Joe' Kurt is based on almonds from Europe.
Taste variations in Denmark
Joe' Kurt Natural
Joe' Kurt Pear-banana
Joe' Kurt Strawberry
Download photos here: https://www.dropbox.com/sh/0p5z8rbqq602k3a/AADyt6MZjAEq4q6w8x_5zBYna?dl=0
Subjects
---
Naturli Foods
Naturli´
Joe Kurt
Food and Beverage in US