Press release
March 10, 2022
Oxygen
Ukraine
Donation
Danish company OXYMAT is sending two complete plants to produce medical oxygen to Ukraine. The generators are being shipped to Ukraine today and are expected to be delivered in Lviv early next week. The donation can keep up to four small hospitals supplied with oxygen - but the need is far, far greater, warns OXYMAT's CEO.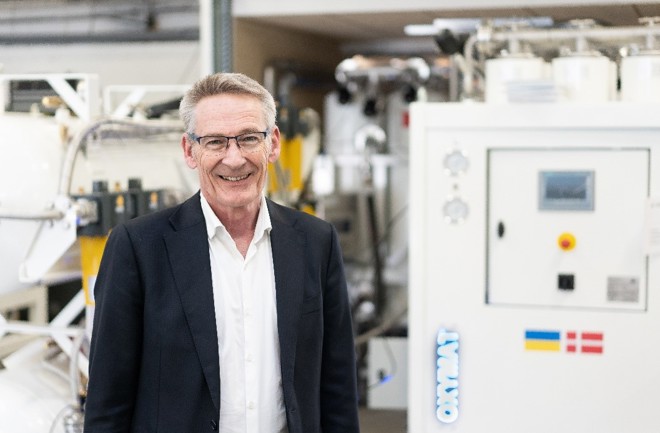 The World Health Organisation (WHO) has repeatedly issued a request for more oxygen to Ukraine because the country's hospitals cannot provide enough for its hospitalised citizens following the Russian invasion of the country. That wish is heard by Danish OXYMAT, which over the past week has been working to send a total of 16 tonnes of equipment to Ukraine:
"We are sending two complete oxygen plants with filling stations to Ukraine today. We know the need is much greater. But if we can save lives by keeping up to four small hospitals running on oxygen, we will. Unfortunately, that is all we can afford to give away. So, I would very much like to encourage others to do the same," says Jesper Sjögren, CEO of OXYMAT.
Equipment sent directly to Ukrainian authorities
For the past 10 years, the Danish company OXYMAT has been present in Ukraine, and right up to the invasion, the company has been working with the Ukrainian company MEGASAN to sell and install oxygen generators to the country's hospitals as well as other industry in the country. In this occasion, OXYMAT is working with the Ukrainian authorities. To ensure the aid reaches its destination as quickly as possible.
"At this point, Ukrainian hospitals are in desperate need for medical oxygen. Our hospitals in the Lviv region can not handle the pressure from Ukrainians fleeing from other parts of the country, and we highly appreciate all the help we can get at this difficult time" says Orest Chemerys, Director of the Health Care Department.
"The local authorities tell us that they really need the oxygen. It needs to go as quickly as possible – as the hospitals are running dry. So, together with good partners, we are getting the equipment out and into use as soon as possible," concludes Jesper Sjögren.
The total donation is worth DKK 3.5 million. The transport is donated by DFDS/ICT Logistics and two oxygen boosters are donated by American RIX Industries. The oxygen boosters are used to compress the oxygen before it is filled into cylinders. OXYMAT is grateful for the support of RIX Industries and DFDS/ICT Logistics for the donation, as it has helped the company to double its donation to two full plants including filling stations and cylinders.
Subjects
---
Oxygen
Ukraine
Donation