Press release
April 30, 2015
BID AWARDS
International arch of europe 2015
Technology
Entrepreneur
POUNCE CONSULTING
ROGER VIERA CEO
Tech Company Pounce Consulting wins Gold prize in the 28th International Arch of Europe Convention Frankfurt 2015 for Global Quality and Innovation. The IAE is part of the annual program of BID Awards celebrated in Europe where leading companies from 179 countries compete each year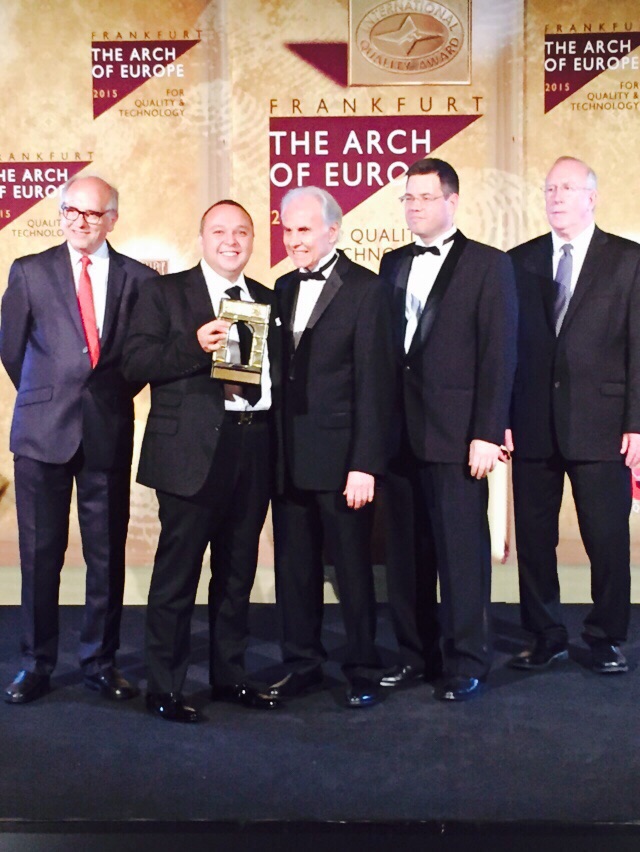 GUADALAJARA, MEXICO April 27, 2015 /PressPort/-- Pounce Consulting, a Mexican company having more than 10 years of expertise in technology and innovation, won the International Arch of Europe Award (IAE) 2015 (www.bid-europe.com) in the Gold category; Roger Viera, CEO of the company, received this award in Frankfurt, Germany.
Pounce was internationally awarded not only for its quality, innovation and excellence in technological development at the global level but also for the continued investments in technology, innovation, human talent and equipment, providing products and services of international quality. This award reflects the quality and innovation provided to Pounce's clients by focusing on megatrends such as IoT, wearables and technologies that provide innovation and modernization for society.
For Pounce, this Quality Award is very important; it is the equivalent of the Deming in Japan, the Baldrige in United States and the EFQM in Europe.
For over 29 years, this award has been given to the companies leading the most important activities in the world of business. Companies from 179 countries are evaluated during the selection process.
"For Pounce, this award shows that the Mexican companies are in the same levels of innovation, quality and talent as other leading companies in the world. This award is the result of how the market can be changed, by a leading entrepreneur, providing excellent services and products developed by Mexican talent and also creating more than 250 jobs, which give a boost to the economy of the country" said Roger Viera CEO and Endeavor Global entrepreneur, in a declaration given today.
This award has been given in the past years to worldwide companies such as: Operadora VIPS from Mexico, Turner Construction International LLC from USA, (Project Manager of the world's tallest tower construction, Buri Khalifa in Dubai), Reliance Industries of India (114th place in the Fortune Global 500 list), among others.
Pounce is proud of this international award because it reflects its professionalism and quality in its designs and productions. For more information, please enter the website www.pouncecorp.com
SOURCE Pounce Consulting
Media Contact:
Bárbara Rodríguez
Marketing & Communications Director
+5233 3942 2585
Contacts
---
Subjects
---
BID AWARDS
International arch of europe 2015
Technology
Entrepreneur
POUNCE CONSULTING
ROGER VIERA CEO