Press release
August 31, 2011
Health
MS stars unite to back a global movement to End MS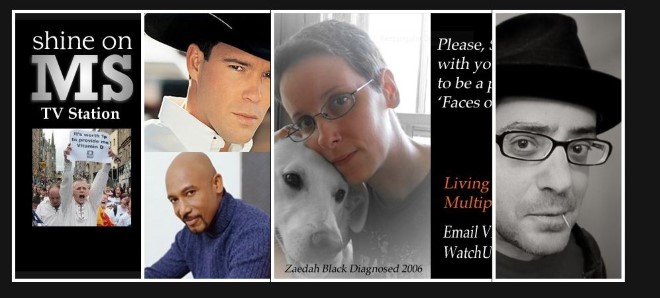 MS Station Inc. (MSstation.com and MSstation.TV) along with 'Shine On MS' (www.Shineonms.com) are uniting the MS Community on a Grand and Global Scale!!
NEVER FEEL ALONE WITH A MULTIPLE SCLEROSIS DIAGNOSIS AGAIN!!!!
You can hear us on MSstation.com and see us on MSstation.TV. Now, you can also chat with us on Shine On MS'www.shineonms.com! [http://shineonms.MSstation.com]
MSstation Inc. is Dedicated to Providing Global Awareness, Encouragement and Support for People Affected Directly or Indirectly by Multiple Sclerosis.
Radio Hosts of MSstation.com include a number of affluent people in the Multiple Sclerosis Community. Amy Gurowitz and Stuart Schlossman, are amongst the numbers involved in procuring MSstation Inc.'s Mission.
Amy Gurowitz, Founder of MS softServe www.MSsoftserve.com hosts MSLOL (Multiple Sclerosis Life of Learning) Radio www.MSLOLradio.com every 1st Wednesday.

MS SoftServe is Dedicated to Customized Learning about Multiple Sclerosis. MS SoftServe will give users control over what and how they learn about their unique version of MS, without exposing them to unwanted information that contribute to their anxiety while living with it"
Stuart Schlossman, Founder of MS Views and News Organization www.MSviewsandnews.org Hosts Stu MS Radio www.MSStuMSradio.com every 4th Wednesday.
MS Views and News, Inc., is dedicated to the global collection and distribution of current information concerning Multiple Sclerosis. In collaboration with other organizations, MS Views and News (MSV&N) uses state-of-the-art communication channels to provide information for those affected by or interested in MS.
Like the Hosts the Founder Rae-Anne (Rae) Edwards also has Multiple Sclerosis. You don't have to have MS to Host your own show on MSstation, just a passion to spread Awareness, Encouragement and Support!
About Shine On MS
A social network and community for those affected by Multiple Sclerosis. Shine On MS is a community for people affected by Multiple Sclerosis, MS Groups, researchers, campaigners and activists. Users can share, get support and interact with other members. The social network was created by MS campaigner Ryan Mclaughlin from Scotland. The teenager dedicated the social network to help fight for better rights for those with MS. The young health activist will use the platform as a campaign HQ to launch a worldwide campaign in 2012 to get politicial action taken to end the disease within a generation.
About the Shine on Scotland Campaign
A campaign by 16 year old Ryan Mclaughlin to get vitamin D for every child and pregnant
mother as a preventative measure against Multiple Sclerosiswww.shineonscotland.org.uk
Subjects
---
Health