Press release
November 5, 2012
This Thursday sees a meeting between MPs and key government figures to discuss the regulation of claims management companies could re-shape the industry.
Press release
May 15, 2012
Insight Investigations yesterday attended the Home Affairs Committee Seminar at Portcullis House, Westminster to discuss regulation of the private investigator industry and also listen to guest speakers around related issues.
Press release
January 10, 2012

Yesterday on BBC Breakfast, Insight's Director of Operations Tony Smith was interviewed and assisted in compiling a reconstruction on the legal activities that private investigators participate in.
Press release
October 13, 2011

The World Association of Professional Investigators (WAPI) attended the SIA Conference with the agenda being; Commitment to Regulation on 12 October 2011 at Sheffield. This event focused on developing proposals for the new regulatory regime being planned by the SIA, Security Industry Authority. The below announcement focuses on the conference suggestions and reaction by a leading member in WAPI.
Press release
September 26, 2011
The men have been reported to have been arrested and held in Kenya on suspicion of terrorist activities are reportedly linked to Intelligere, a international branch of British based investigation agency XFor.
Press release
July 15, 2011

Despite many attempts in the past by private investigator associations and private detective agencies to get the Government to license their industry, it is still not governed correctly. After the recent events and publicity the industry is getting following the phone hacking scandal revelations, leading private investigator firm Insight Investigations are calling for action now before the industry is further scrutinised and brought under the spotlight for the wrong reasons.
Press release
July 5, 2011
At approx 12:20 today, Tony Smith, Director of Insight Investigations will be giving his respected opinion's to Radio 5 Live, on the latest phone hacking scandal surrounding murdered teenager Milly Dowler in 2002.
Press release
March 17, 2011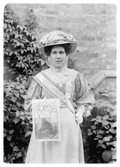 Alice Hawkins founded the Leicester branch of the Women's Social and Political Union in 1907 with the help of the Pankhurst sisters. Arrested 5 times so that women today have the right to vote
Press release
July 20, 2010
IS DAVID CAMERON'S "BIG SOCIETY" RIGHT FOR THE TIMES? WHAT CAN BUSINESS DO?
Press release
May 14, 2010
Torch is passed from Baby Boomer to GenJones Leaders
Press release
April 28, 2010
Nick Clegg and Winston Churchill are the politicians people would most like to take on a night out with their friends – a new survey has revealed.
Press release
September 29, 2009
Climate change has knocked out every other issue from the environmental activists' agenda in the last nine months, said a new report on NGO campaigning published today