Press release
November 7, 2017
The leading brand of mobile signal boosters, Nikrans, broke into British market in November 2017.
Press release
September 9, 2013
Classic Informatics will be participating at Ad:Tech London. It looks forward to promote its services to Enterprises, Start-ups and Digital agencies.
Press release
August 7, 2013
What element of a website has the greatest importance if merchants wish to boost their online sales?
Press release
July 10, 2013

GloboMailer is the new total email marketing package from the Incite Minds group.
Press release
March 21, 2013
And What If It Isn't?
Press release
February 28, 2013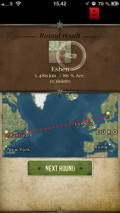 The new App, City Distance, allows you to challenge yourself or your friends to guess distances between the world's cities. The App detects the city you are located in and challenges you to estimate the distance from that point to a random city on the globe. If you play against others, you will be challenged on the distance between random cities e.g. the distance from New York to Timbuktu. The game is turn-based, ensuring the freedom to play over a longer period and when time is at hand.
Press release
February 19, 2013
Epidigit Warns of the Hidden Dangers of Bargain-Basement R4 and 3DS Cards
Press release
January 9, 2013
Why The R4i Gold Plus Flash Card Is Still Selling Like They're Going Out Of Fashion
Press release
April 27, 2012
Swap your old, boring blackboard for a smart, new interactive whiteboard.
Press release
April 7, 2012

How2Media have launched their new company website which showcases a whole host of essential digital marketing services.
Press release
March 15, 2012
iPad 3 will be released on Friday 16th March 2012
Press release
March 6, 2012
Ensuring you keep your customers happy