Press release
September 17, 2020
The Olympic Gold Medalist and Danish Swim Star Pernille Blume enters a partnership with the sports brand DANISH ENDURANCE for the launch of a new collection of women's lingerie. Read more in the press release in attachment.
Press release
May 9, 2018
Up Close with Marilyn: Portraits by Milton H Green, opens at London's Proud Galleries this Friday 11th May. Vintage Fashion experts What Katie Did have dressed many 'Marilyns' over the years, and recreate some of her iconic looks with lookalike Suzie Kennedy.
Press release
February 6, 2018

Award winning swimwear designer and breast cancer survivor, Clover Lewis, named judge for RAFT awards
Press release
July 18, 2017

Following its launch this month, new skate wear brand Max Lami Clothing is announcing plans for pop up stores across the city this autumn, with the first to open in London's vibrant town of Camden.
Press release
January 4, 2016

Summary: Preparatory courses are created for students without prior knowledge or experience in the field. They aim to let participants understand the fashion styling and design lessons right from the beginning with theorical part and workshops. It's the perfect way to improve fashion skills with students from all over the world and start your adventure into the fashion world. Courses are open all year round, and enrollment is each Monday.
Press release
August 18, 2015

The Outergraph displays only high quality products from top local brands and retailers, while discovering and sharing their beautiful stories. All items ordered online are comfortably delivered to the hotels the next day.
Press release
January 30, 2015

Entrepreneurial Anna-Lee Kewley started her business with just £230. Recently awarded the National New Media Award
Press release
May 6, 2014

Another online trading arm of TH Baker Group
Press release
October 5, 2013
London Shoeshine Limited are offering their top quality Executive shoe shine service at half the price through the month of October; not only can you get 50% discount once, you can take advantage of this five times.
Press release
October 3, 2013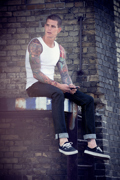 Through its new concept, The Denim Journey, Danish fashion brand Solid aims to raise its position as a leading jeans brand in Europe to even greater heights. One man is set to help Solid to the top of the league in both Denmark and Europe. His name is Agger. Daniel Agger. The current captain of the Danish national football team and rock-solid defender at Liverpool FC will front Solid's latest campaign, Peter Mazur, CEO of parent company CNS Group sums it up. This endorsement is a decision which is both logical and a huge bonus to Solid's profile and branding to the next level.
Press release
September 14, 2013
Every well dressed modern man will be able to vouch for the benefits of a complete look each day; men's designer clothing and finishing touches such as a shoe shine will show people you mean business. Bourdon House, the London home of Alfred Dunhill offers everything you require and more.
Press release
June 26, 2013

It is essential that you protect your eyes during the summer, why not check out i*Sunglasses range of top quality, affordable products today and make big savings.