Press release
July 15, 2011
Culture
Leading online retailer of canvas art and canvas prints, Who Art Now, have launched a new improved version of their website that includes multilingual capabilities and a more sophisticated look and feel to improve the user experience.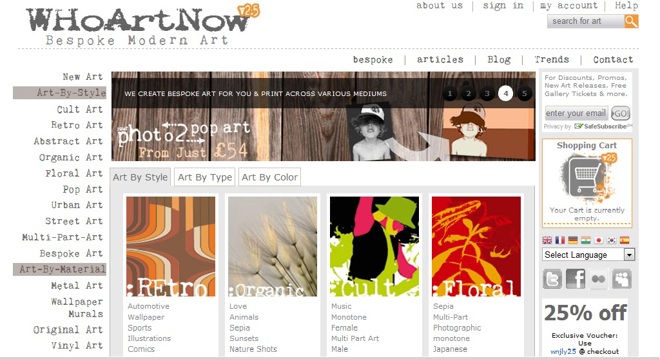 It is always a hard task deciding to overhaul a well established website, it makes it a much more difficult task when you decide to go from just offering products and pages in one language to a new website that offers multilingual capabilities for every page and product!
That is exactly what Leicester based, online retailer of canvas art and canvas prints Who Art Now, have done. Their new website allows users from overseas countries such as Germany, Spain and even the far east of Japan and Korea to use the new site safe in the knowledge all pages and products have been translated correctly to ensure a smooth transition from visting the site to making a purchase.
Also to assist the multilingual functionality of the site, Who Art Now have added a currency conversion tool to their system that is both up to date and accurately converts currencies from British Stirling to the correct currency for any desired country.
Owner of Who Art Now Andy Harper said of the improved website "The aim of the v2.5 new was to make it more sophisticated and relevant, whilst improving the ease of use and functionality. The multilingual capabilities now give users the ability to translate every single page into a range of languages. We are also running currency conversion from xe.com for more accurate pricing internationally. One of the big driving forces for producing the multilingual site is the international prices that we have been able to negotiate - we can send to France or Germany now for a little more than our UK mainland delivery which is a huge improvement over last year.

As well as the languages, we have stripped away the non-essential navigation and images, and ditched the classic grey template that we have had for over 5 years. This has enabled quicker load times, and a more user - friendly interface. We also have a tonne of new features for 2011 - so watch out for bespoke wallpaper murals & printed metal art, to name but a few".
This is certainly a bold move and productive one for Who Art Now, in challenging economic times it would make sense that with a struggling economy in the UK that retailers, online and offline should perhaps offer a solution for overseas trading to maximise the chances of visitors and sales.
Having established themselves firmly as a leading canvas art retailer it would safe to presume that this will not be the last of the improvements we see to the site as their popularity increases and the company decides to take on new challenges with enthusiasm.
Subjects
---
Culture