Press release
October 29, 2009
Business
Adrian Ward is the latest arrival at Leyland-based business gifts specialists Ad-Options Ltd, joining his parents at the company as Marketing and Websites Manager following a stay as Preston North End FC's Media and Marketing Executive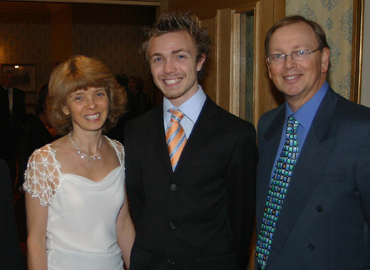 Leyland-based business gifts specialists, Ad-Options Ltd, have further strengthened their ethos as a family firm by snapping up a third member of the Ward family from their Coca-Cola Championship neighbours as they look to capitalise on a recent run of online success.
Adrian, 24, joins parents Steve and Ann, the company's directors, after more than two years as media and marketing executive at Preston North End Football Club, where he was part of the team that landed the Best Fan Marketing Campaign award at this year's Football League Awards.
The new marketing and websites manager will be looking to help the Central Lancashire Business Club members to push on and complete a successful trading year by furthering the potential for growth in the crucial online market, which has become a staple part of the company's operations.
Their portfolio of websites – including BusinessGiftUK.com, BlankKeyrings.co.uk and LoopKeyrings.co.uk – has largely bucked the trend of the recent recession and has enjoyed positive trading results. This has paved the way for the University of Leeds graduate to further that success by identifying and expanding upon the reasons of the recent positive trends and controlling online content within the network of sites.
Adrian, who also counts Brinscall-based internet marketing specialists Thomas Cole Solutions and another Football League club, Bury, amongst his former employers, said he was keen to try something new in unusually familiar surroundings, explaining:
"I'm looking forward to taking on a role which gives me greater responsibility for the success of a company and for the chance to work alongside my family, which I know is something they've always looked forward to one day achieving.
"Now that the time has come, I hope I can offer some valuable input based on the experiences I've gained elsewhere and look forward to taking advantage of the growing online market, which has become an essential everyday asset for most small to medium sized companies of this ilk."
Subjects
---
Business