Press release
January 26, 2011
Homes & Gardens
The bathroom is the one of the main hubs of a home as well as the kitchen. Although being an indispensable part of the home it is often forgotten about.
Many UK homes are currently subject to neglected bathroom designs. If you have updated every room in your home why stop at the bathroom, it need not be an expensive upgrade. Certain design aspects of the bathroom can be modernised such as the everyday bathroom accessories. If you are a lover of showers in the morning but still have a shower curtain then why not update it to a stylish bath shower screen.

Bath shower screens add elegance to a bathroom without the extravagant price. Bath screens minimise water leakage with secure watertight seals, fantastic if used with a power shower. There are many designs and styles on the market so prioritise the features which are the most important when selecting the right bath screen for your bathroom.
As shower doors, bath shower screens come in a variety of glass thicknesses ranging from 3mm up to 8mm toughened safety glass. The glass thickness of the bath screen affects the price of the bath screen greatly. If the bath screen will be installed in an en suite or second bathroom scenario maybe you will be not too concerned about the thickness of the glass. A variety of styles including pivot, folding and sliding bath screens are available on the market.

Folding bath screens offer users the opportunity to neatly fold away to the wall when not in use. This is useful when cleaning and accessing the bath for a relaxing soak. The folding bath screens offer four, five and six panels so choose depending on the size of your bath. Semi frameless pivoting bath screens are a favourite at the moment creating a minimal bathroom finish. Pivoting bath screen styles are more flexible with curved and straight glass options. Pivoting bath screens open inwards and outwards. Contemporary sliding bath screens are minimal and create a visual impact in any bathroom design.

WD Bathrooms buy directly from manufacturers and deliver bathroom products across the UK. Complete your bathroom upgrade with a range of bathroom suites, shower enclosures, shower trays and bathroom taps online.


Subjects
---
Homes & Gardens
WD Bathrooms - Online bathroom retailer.
Download | 0.03 MB | 95 x 238 | .png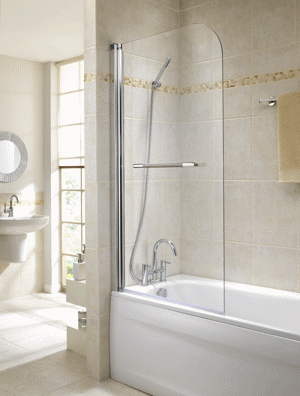 The GEO6 Single panel bath screen from WDBathrooms. Constructed from 6mm toughened safety glass and a handy towel rail.
Download | 0.42 MB | 1000 x 758 | .gif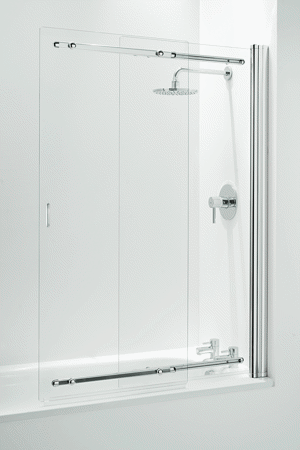 A minimal frameless bath screen design which offers a sliding design for maximum functionality.
Download | 0.29 MB | 1000 x 667 | .gif
Zip and download all files