Press release
November 13, 2008
Business
TSG wins the prestigious Sage 200 partner of the year award from Sage for the third consecutive year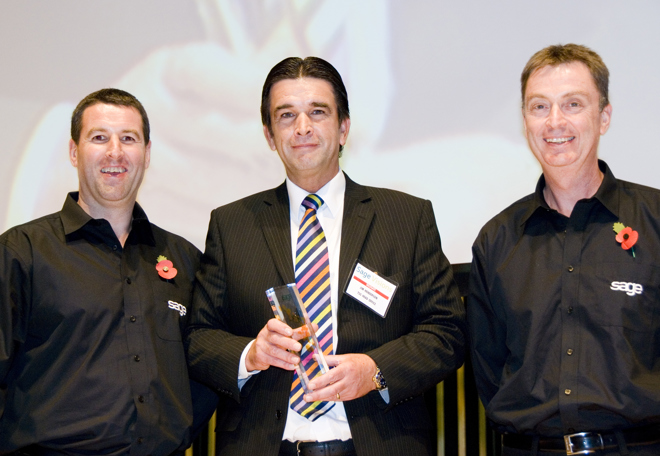 At this week's Sage Visions Conference at the Sage Gateshead, TSG was once again recognised as the UK's leading Sage 200 product Business Partner. Sage 200 is a leading mid-market Accounts and CRM solution used by thousands of businesses across the UK.

The Sage 200 award is a fiercely contested category and TSG is the only Sage Business Partner to have received this prestigious award on three consecutive occasions.

David Stonehouse, TSG Chief Executive said, "We are delighted to win the Sage 200 award again this year. It is a great achievement and important recognition for all of the hard work that our staff put in to providing the highest levels of service to our Sage users.

"Sage is an important part of our business and it is particularly pleasing to see two successful North East businesses working closely together on a national strategy - we now have thirteen regional service centres from Aberdeen to Southampton providing quality local support to over 1,000 Sage users. We have ambitious growth plans for the future and Sage is one of the foundation stones of these plans".

On presenting the award, Sage (UK) General Manager, Business Partner & Corporate MMD, Steve Attwell, commented, "We are delighted to present this award to TSG. Their success is due to a passion for outstanding customer service. My congratulations go to all involved." Emphasising the value which Sage puts on its relationship with its business partners, Attwell continued, "Our Business Partners are immensely important to us and companies such as TSG are leading the way in their field. We look forward to working together with them in the future for mutual benefit and growth."

TSG is staging a number of informative seminars to show how modern business software can add value to a business, particularly in a tough economic climate. Focus is given to how companies can improve management information, control debt, work smarter, reduce waste, optimise customer service and safeguard a competitive edge.

To find out more visit www.tsg.com/sage200
NOTES TO EDITOR

About TSG: Technology Services Group

TSG provides IT solutions to the SME market which include:
TSG now supports over 12,000 businesses across the UK
TSG won Sage 200 partner of the year in 2006, 2007 and now in 2008.
TSG is Pegasus business partner of the year 2006.
TSG is a Microsoft Gold Partner and Small Business Accredited and has recently been awarded membership to the Microsoft Presidents' Club, one of only 9 companies in the UK to have achieved the level of accreditation.
TSG also holds Microsoft competencies in Network Infrastructure, Advanced Infrastructure, Information Worker and MBS
TSG was ranked 56th in the elite list of top-performing technology firms "Microsoft Tech Track 100 2007", thanks to annual sales growth of more than 75% over the last two years.
TSG is a HP Gold Partner
TSG employs over 430 staff.
TSG has 14 offices across the UK: Aberdeen, Glasgow, Edinburgh, Newcastle, Gateshead, Teesside, Manchester, Leeds, Birmingham, Wellingborough, Leicester, London North, London South, and Southampton
TSG was founded by Graham Wylie, co-founder of Sage in 2003.
TSG History

The business was set up by Sage co-founder Graham Wylie in 2003 with the acquisition of Newcastle-based Joynson Ltd. Head Office and centralised operations are located at new purpose-built offices on Gosforth Business Park, Newcastle upon Tyne, with regional offices in Aberdeen, Glasgow, Edinburgh, Newcastle, Teesside, Manchester, Sheffield, Leeds, Birmingham, London and Southampton.

For further information please contact Ian Dinning at TSG

Tel: 0191 256 1168
Mobile: 07917 803970
Email: [email protected]
TSG Head Office, One Gosforth Parkway, Gosforth Business Park
Newcastle upon Tyne, NE12 8ET

http://www.tsg.com/

Photograph supplied, right to left;
Brendan Flattery, Sage General Manager MMD, Jim Henderson, TSG Sales Director, Paul Stobart, Sage UK MD.
Subjects
---
Business