Press release
March 12, 2019
Dash cam
Thinkware
Best dash cam
Q800 pro
THINKWARE, the world-leading dash cam company, has today announced the UK launch of its latest, top of the range model, the Q800 PRO - an updated version of the extremely successful F800 PRO.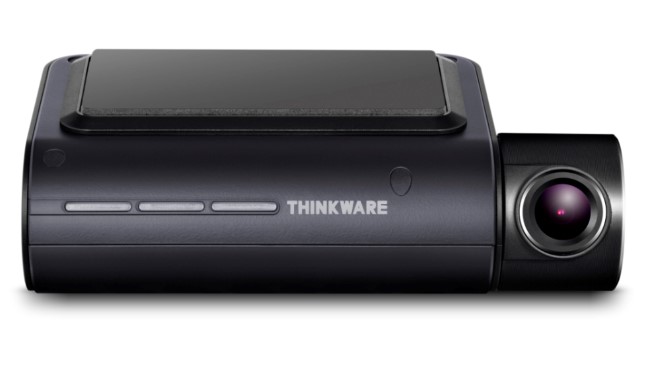 In the new model, while the rear facing camera remains at Full High Definition (FHD), its forward-facing image resolution has doubled from FHD to QHD.
Equipped with Sony Exmor R Starvis sensors for both front and rear cameras and the powerful Ambarella A12 processor, the front facing camera is four times more vivid than HD resolution and captures images in 1440p at the front in QHD and 1080p FHD rear recording in both daytime and night-time.
Users can easily control and manage their Q800 PRO dash cam with CLOUD connectivity and built-in WiFi via an iOS or Android smart phone, providing a truly convenient way to view, download, access or delete recorded footage as well as enable firmware and safety camera updates via the app.
The THINKWARE CLOUD features include Geo Fencing, Locate Vehicle and Driving Impact Notification making the Q800 PRO perfect for parents, car rental companies and fleet management firms.
As with the F800 PRO, the Q800 PRO is equipped with Super Night Vision 2.0 which means clearer night time footage both while driving and when parked with up to 10 times the brightness in dark environments
Users will benefit from different recording modes; motion and impact detection or Time Lapse Photography at two frames per second for up to 72 hours. If a driver is leaving their car for a longer period of time, they could use the Energy Saving Parking Recording where the Q800 PRO will sleep until an impact is detected and will wake up within a second, to record for the next 20 seconds. This mode will reduce power consumption by 1/3 less and gives 3x longer video recording than normal parking mode.
Tim Sagar, THINKWARE Business Development Manager, says: "According to a recent RAC study almost three million motorists are now recording their journeys with dash cams and with more motorists starting to see the value of dashboard cameras, it is an important time for THINKWARE to bring the latest innovation to the dash cam industry.
"An increasing number of insurers are accepting footage when reviewing claims and offering discounts to those with dash cams installed. By incorporating cloud connectivity into our dash cams, we are moving one step closer to offering insurers and drivers more streamlined insurance claims."
The Q800 PRO comes with a polarising filter to reduce dashboard reflections. It is packed with useful features including built-in A-GPS for embedding speed, time and location data into recorded videos. The location is remembered so it achieves instant GPS lock when switched on. There is also the option of connecting an external GPS antenna, to get around the shielding effect of heated or sun reflective windscreens.
The location data is used to provide safety camera alerts, which include speed cameras, red light cameras, average speed zones and mobile speed camera zones. The European version of the camera provides "Danger Zone" alerts in France, as well as safety camera alerts in the rest of Europe.
Format Free 2.0 Technology eliminates the need for manual reformatting of recorded video files on the micro SD memory card, extending memory card life and improving reliability.
Various safety features have also been included to protect drivers, including Road Safety Warning System, Lane Departure Warning System (LDWS), Forward Collision Warning System(FCWS), Urban Forward Collision Warning System(uFCWS) and Front Vehicle Departure Warning(FVDW).
The THINKWARE Q800 PRO Dash Cam is available from www.thinkwaredashcam.uk, RAC, Amazon and through independent UK retailers. Pricing starts at £269 for 1CH and £369 for 2CH.
Features of new Q800 PRO include:
● Quad High Definition(QHD) forward facing camera – four times more detailed than High Definition (HD)
● CLOUD connectivity including geo fencing, locate vehicle, driving impact notification and video upload – perfect for parents
● Super Night Vision 2.0 – up to 10 times brightness in dark environments – recording in any situation
● Road Safety Warning System alerts driver when vehicle goes off course
● Time Lapse Photography at two frames per second – reducing video file size - for up to 72 hours
● Comes with polarising filter to reduce dashboard reflections
● Energy Saving Parking Recording will sleep until an impact is detected and will wake up within a second
● Safety camera alerts, with monthly database updates
For more information visit the company's website at www.thinkware.com
-Ends-
About THINKWARE:
Global IT Corporation THINKWARE was founded in Korea in 1997 and is celebrating its 22nd anniversary this year. Through consistent research and development in the field of smart car technologies, THINKWARE has established itself as the market leader in various sectors such as dash cam, electronic maps, navigation, mobile applications, and tablet PCs.
Spearheading the competition with world-class image processing technologies and intuitive user-friendly interface, THINKWARE has debuted their DASH CAM lines into the US market in April 2014. THINKWARE has confirmed the export of their DASH CAM lines to 17 other countries including UK, Singapore, and Japan.
THINKWARE continues to astound the industry with their world-class DASH CAM lines during their presence at global exhibitions like CES, SEMA, and The Gadget Show Live. For CES 2017, the world's largest consumer electronics show, THINKWARE was honored with the Innovation Award of the Year for its excellence in technology and design. The company has also received the IF Design Award (2017), IDEA Award Finalist (2017) and the Red Dot Design Award (2018)
Subjects
---
Dash cam
Thinkware
Best dash cam
Q800 pro