Press release
August 19, 2011
Homes & Gardens
When it comes to home improvement and making small changes to enhance a property, the kitchen is without doubt the most important room to start with. Often the epicentre of socialising and daily activities, your existing kitchen can be brought to life by adding kitchen components at the right price to suit your budget. The Sourcebook Direct are one such distributor of kitchen components to help make a positive impact.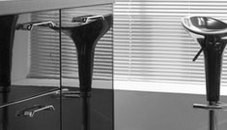 Adding new kitchen components such as doors, handles, drawers and lighting to any kitchen area, be it residential or for commercial purposes, will help to inject some new life into a property without breaking the bank in the process. Established kitchen components distributor The Sourcebook Direct are one company that can without doubt help to make an impact on the way your kitchen is portrayed through their wide choice and different stunning ranges of individual kitchen components.
With a choice of over 2,000 individual kitchen components that are always in stock, The Sourcebook Direct can offer unrivalled quality, availability and oustanding value for money for anybody who is looking to stock their products and supply to consumers looking for that all important kitchen makeover.
Split into three sections The Sourcebook Direct's various ranges come under the banners of Inspiration, Finishing Touches and Essential Elements. As the three categories reflect in their wording they pretty much cover everything a kitchen needs, inspiration in design and presentation, essential elements to compliment the design and the finishing touches to ensure a fully operational kitchen throughout.
Inspiration covers the main kitchen components such as;
Kitchen Handles
Kitchen Drawers
Lighting
Essential Elements includes;
Hanging Baskets
Drawer Metals
Runners
Hinges
Stays
Whilst the Finishing Touches section is made up of;
Storage Solutions
Decorative Accessories
For the best choice of all these individual elments and kitchen components The Sourcebook Direct have left no stone un-turned in their quest to provide you with the highest quality products at the right prices.
To open an account with The Sourcebook Direct and view their range of kitchen componentsplease visit http://www.thesourcebookdirect.co.uk.
Subjects
---
Homes & Gardens