Press release
March 27, 2012
Homes & Gardens
The Door Handle Company have launched their new range of door handles that have been designed and manufactured by in house.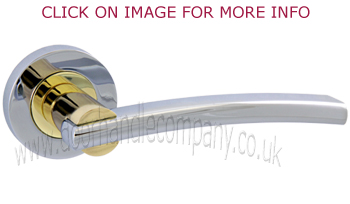 It is a rare thing indeed these days for designers to choose a more expensive option when designing a product, but the new range of
door handles
introduced to the UK market place by the Door Handle Company is just such an example.
The new range of VEGA designer door handles which sit on a back plate have been designed and manufactured with a couple of very good plus points for the end consumer. When you opt to renew your door handles one problem that can hold you back is finding a direct replacement that will not show any previous paint mark or damage around the old door handles when being removed. This then can lead to extra expense correcting this damage or paint marks which, nobody really wants or needs.
The simple answer is to find a pair of door handles with a slightly larger back plate than the ones previously fitted to the door,this sounds very simple to do but with raw material costs ever increasing many manufacturers are now opting to make the back plate of the door handles both shorter and slimmer to save on costs. One very popular plate size is now 175mm long and only 40mm wide, whereas in times gone by the handles on your door would more likely have been 50mm wide.
This then is the problem, how do you cover the area that the old door handles once were fixed to? The Door Handle Company have simply spent more on the product making a back plate that is 190mm long and 50mm wide and yet still offer the customer a fantastic range of door handles. What is the price you probably ask?. As we make the door handles , we cut the margin from the importers and wholesalers in the UK and can offer any one style that the customer wants for below £14.99 inc of Vat per pair.
To put it another way; we defy you to find a better quality full size pair of door handles for a better price. There are many styles within the range (this range is our 7 series door handles) most of the styles lend themselves to a more contemporary look with the emphasis on Chrome and satin chrome finishes.
Tony Kenyon Managing Director and owner of the Door Handle Company stated that "The decision to design and manufacture this style of door handles has proved to be a fantastic success with demand outstripping supply on some styles, we are now looking to hold larger stocks and indeed design more styles with the possibility of other finishes such as Black nickel door handles and also a polished brass and polished chrome variant".
The Door Handle Company have been supplying customers with quality door handles,
door knobs
and door furniture since 1991, their vast range available at low prices have made them one of the leading online suppliers of door handles. Visit http://www.doorhandlecompany.co.uk to see their full collection.
Contacts
---
Subjects
---
Homes & Gardens