Press release
February 7, 2011
Homes & Gardens
Modern water heating systems are capable of large variations in temperature which is why more people are investing in thermostatic controls for the perfect shower every time.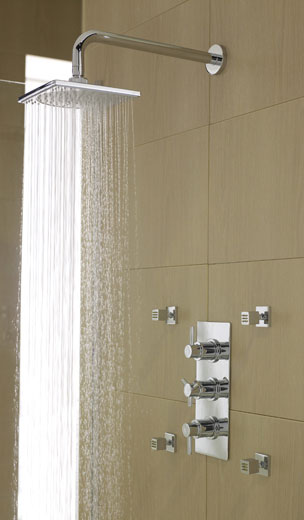 A large number of scalding injuries occur in the home, particularly involving children and the elderly, and reactions to freezing or boiling water in the shower increases the risk of falls and slips.
Thermostatic shower valves can prevent these accidents by regulating the temperature of the water from your shower head. They also have the added bonus of being environmentally friendlier by cutting back water heating bills because the temperature is fixed. The thermostatic valves can maintain the water temperature at all times, even if the mains supply is interrupted by someone turning on a tap or flushing the toilet elsewhere in the house.
In contrast, manual shower mixers allow more control over the water temperature and flow but there is more risk of it being freezing cold or boiling hot as there is nothing to regulate it as it flows out. This could be a problem depending on the plumbing and the boiler in your property.
Thermostatic shower valves can be installed in conjunction with most styles of mixer shower head including fixed shower heads, flexible shower heads and multiuse styles. It makes no difference if you are installing the shower over a bathtub or planning a separate shower cubicle or enclosure. Depending on the design of your shower area, pipe work can be concealed or exposed and the valves come in different styles and finishes.
There are some limitations to the installation of thermostatic shower valves, which depend on your home plumbing system. Get your water pressure checked by a professional and check with your bathroom retailer before you make a purchase to ensure that you can make the most of any thermostatic controls that you buy. If you are happy with your shower, then thermostatic controls are also available for taps on sink basins and bathtubs.
If you are planning a new shower then thermostatic shower valves are worth considering. They can be installed on a wide variety of mixer showers to suit every shower enclosure and budget. Not only can you cut back on water heating bills and avoid nasty accidents in the bathroom but you can guarantee the ideal temperature every time your step on your shower tray.
Subjects
---
Homes & Gardens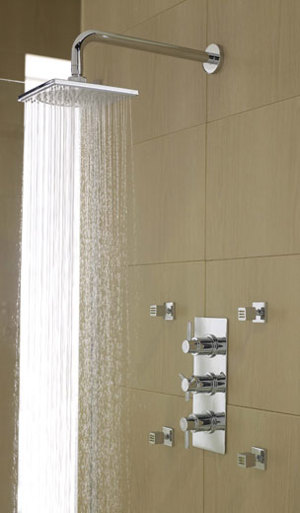 Modern and traditional showers, in a variety of styles and prices.
Download | 0.02 MB | 520 x 304 | .jpg
Zip and download all files