Press release
March 27, 2012
Homes & Gardens
Stainless steel door handles have become a popular choice with customers due to their resilient material and the modern designs.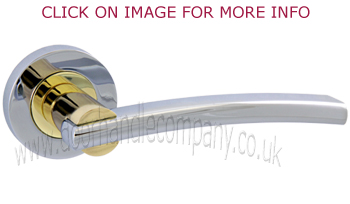 NEW RANGE OF STAINLESS STEEL DOOR HANDLES.
Stainless steel is one of the most resilient materials to manufacture door handles from and is becoming a popular choice, so why are there so few competitively priced styles available on the market?. The Door Handle Company have launched a new range of stainless steel door handles to meet the demand of their customers, allowing them more choice and a high quality product without the high price tag.


The Door Handle Company have now launched an extended range of finishes in this very popular material with all the most sought after designs of door handles. The finishes that are available are; the Satin Stainless Steel finish is as it suggests a Matt satin finish which is very durable and will look as good in years to come as it did when it came out of the box. Virtually scratch proof as there are no applied finishes to worry about with these door handles, and available at a price that is very hard to be beaten in value for for money.


Polished finish is as suggested a mirror finish that is similar to the finish of polished chrome door handles, but again this is not an applied finish and therefore very difficult to scratch or damage, and the price is great value for money with many of the door handle styles coming in at around the £10.00 mark including Vat.
The newcomer to this range of door handles is called the DUO finish, this now brings these door handles into another market place, that of designer and modern door handles.


The mix of finishes gives a very modern feel and is also very user friendly for cleaning and maintenance.
The lever on these door handles has a grip area with the traditional satin finish which does not leave fingerprints when gripped and as such looks a lot cleaner for longer, Either side of the handle grip is a polished mirror finish and the stem of the door handle is also polished. Finally the outer rose of these door handles is finished again with a satin stainless steel band.


Prices start from £4.99 for a pair of door handles in satin Stainless Steel finish rising through the range to £8.99 for the DUO version, all prices include Vat and discounts are available subject to quantity on the www.doorhandlecompany.co.uk website.


Managing Director Tony Kenyon stated "look out for the VEGA range of stainless steel door handles on our website as this range is far and away the biggest selling product that we sell, stocks are always good and next day delivery is assured on this product range. Value for money is guaranteed with these six styles of door handles".

The Door Handle Company who have been trading since 1991 are specialists within their field and are one of the largest stockists of door handles, door knobs, door and cupboard furniture. Visit http://www.doorhandlecompany.co.uk to see their full range of door handles and door knobs.


Subjects
---
Homes & Gardens