Press release
February 10, 2010
Culture
Releasing in Cinemas across UK and Worldwide on 26th February 2010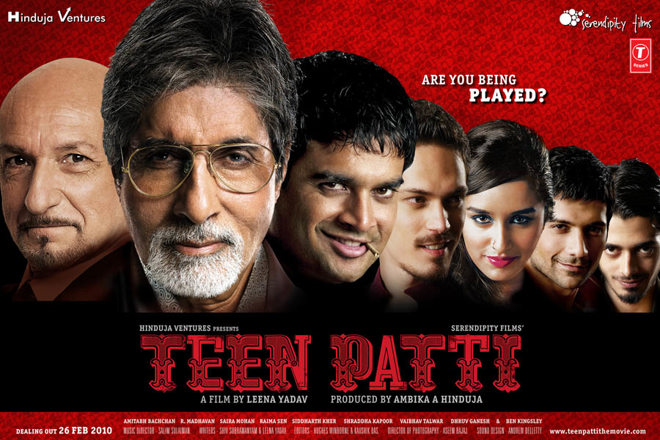 The cards have been dealt and the players get ready for the game of their lives, as one of 2010's most hyped and anticipated films, 'Teen Patti',releases in cinemas across UK and worldwide on 26th February 2010.
Presented by Serendipity Films, one of the most pioneering film production companies to emerge from India in recent times, 'Teen Patti'(a game of Flush)is a slick thriller that will draw audiences into an inescapable web of intrigue and suspense. The film is an extraordinary example of the finest in mainstream and Indian talent going head to head 'on screen', as respective acting heavyweights – godfather of the Indian film industry Amitabh Bachchan and Academy Award winner Ben Kingsley - come together in a cinematic tour de force that is sure to win the praise of both critics and aficionados of independent Indian cinema alike.
Set in both India and England, 'Teen Patti' is an emotionally riveting and razor sharp thriller about greed, deception and giant feats of the imagination. Relayed against the backdrop of modern India, 'Teen Patti' is one of the most fascinating new films to emerge from Asia.
'Teen Patti' is edited by the globally renowned Hughes Winborne, whose 17 feature film credits also include Denzel Washington's 'The Great Debaters'; Will Smith's 'The Pursuit of Happyness' and 'Seven Pounds'; Billy Bob Thornton's 'Sling Blade' andthe Oscar-winning 'Crash.'The filmis directed by one of India's fewest and finest female directors, the critically acclaimed Leena Yadav.Leenais regarded as one of the most exceptional and forward-thinking directing talents to emerge from India over recent times and as well as working on fictional and non-fictional television in India, Leena directed Aishwarya Rai in one of her most extraordinary film roles to date – 'Shabd'. 'Teen Patti' 's ensemble cast also stars the charming and versatile R. Madhavan who's film '3 Idiots' was the highest grossing film in the history of Indian Cinema and welcomes the debut feature roles of a hotbed of new acting talent that India has produced, introducing Siddharth Kher, Shraddha Kapoor, Vaibhav Talwarand Dhruv Ganeshalongside fellowyoung thespians, international sensationSaira Mohan and Raima Sen.
Comments Ambika Hinduja, Founder of Serendipity Films, "Serendipity Films combines the collaborative genius forces from India and abroad to make films that engage not only the international imagination but also the deep core of our shared humanity. Most Indian film production houses make films that appeal to an Indian audience. However, through Serendipity Films, our vision is to make films that appeal not only to an Indian audience but also to the global audiences."
Synopsis:
Perci Trachtenberg (Ben Kingsley), widely regarded as the world's greatest living mathematician, meets Venkat Subramanyam (Amitabh Bachchan), a reclusive math genius from India, who has cracked a theory that could redefine the principles of probability and randomness.
Aware that he is on the precipice of an extraordinary discovery, one that could find applications across various sciences, Venkat is encouraged to test his theory in the real world. But what starts out as an experiment between a charismatic young professor and an eccentric older one soon descends into a game neither of them can control.
Convinced that Venkat's discovery has the originality and significance to change the narrative arc of mathematics, Perci understands that Venkat's theory, in essence, questions the idea of what is random and what is fated. A surprising and deeply moving redemption, initiated by Perci, closes this stupendously modern film that is as much about the private equations of honour and chance, as it is about knowledge that can change the world.
Get ready to play the game of your life when 'Teen Patti' deals out in cinemas across UK and worldwide on 26th February 2010.
Subjects
---
Culture