Press release
July 18, 2014
Ultrasonic tattoo gun cleaning
Kerry ultrasonic baths
Tattoo gun cleaning
Guyson International has recently installed three of its 'Kerry' branded ultrasonic cleaning baths into Middleton Tattoo Studios, owned by the world leading tattoo artist Louis Molloy.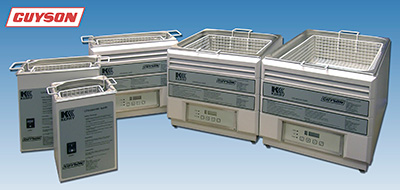 International finishing equipment manufacturer Guyson International has recently installed three of its 'Kerry' branded ultrasonic cleaning baths into Middleton Tattoo Studios, owned by the world leading tattoo artist Louis Molloy. Well known for tattooing many famous music and sporting celebrities and appearing on 'London Ink', Louis is probably most famous for designing and tattooing David Beckham's 'Guardian Angel' back-piece tattoo.

The three Kerry Pulsatron ultrasonic baths, two KC2's and an MKC6, were purchased to complement several existing Kerry ultrasonic bench top baths that have been in regular use over many years. Louis states that "I have tried the cheaper baths but they were always breaking down, so many years ago I bought my first Kerry ultrasonic cleaning bath and have never had a problem, so I continue to use them now and equip my studio with only them."

The smaller Pulsatron KC2 ultrasonic cleaner, holding approximately two litres of wash solution (water and a mild detergent), is situated right next to the tattooist chair for ease of reach, as it is used on a regular basis throughout the day to clean various attachments of the tattoo machine, such as flushing through the grips, tubes, tips and shaders, when changing colour of ink. The ultrasonic agitation enables deep down cleaning inside crevices, threads and tubes, removing all vestiges of the previous ink.

After tattooing on that person has finished, all the removable parts of the tattoo machine gun are placed in the larger MKC6 ultrasonic bath and are thoroughly cleaned in the heated wash solution coupled with the ultrasonic action prior to the components being sterilised in an Autoclave.

Guyson manufactures the entire range of Kerry ultrasonic baths, along with a comprehensive range of larger ultrasonic cleaners, at its Skipton based factory. All the benchtop ultrasonic baths come with a two year warranty.

The smaller Kerry KC ultrasonic cleaners are available with 2 and 3 lire capacity and are particularly easy to use, with a simple on/off switch for the ultrasonics and operating instructions printed on the bath's front panel. Cleaning of lightly soiled items may take a matter of only seconds, whereas removal of medium soil may take two or more minutes.

The larger Kerry MKC baths are more sophisticated and can be programmed to maximise the quality and repeatability of results, allowing the user to pre-set exact cleaning times and temperatures, thus ensuring consistent levels of cleanliness from batch to batch and providing an affordable way to provide quality precision cleaning.

The MKC units can thoroughly remove a range of contaminants from a wide range of components, including those with highly intricate shapes and hollows and internal galleys – as long as the component is totally immersed in the wash solution. And with ultrasonic cleaning being inherently gentle, this makes it particularly suitable for less robust products such as precision parts. MKC baths are available in capacities of 6, 14 and 22 litres to suit different workloads.

Operating temperatures from 20 to 80 degrees Centigrade can be set in 1-degree increments, allowing the optimum temperature to be selected for any combination of component material, cleaning solution and contaminant.

All functions are controlled by a simple four-button membrane keypad. An LCD panel displays the temperature and time set by the user, the time elapsed since the start of the cleaning process, and the status of the power supply, heater and ultrasonics.

About Guyson
Guyson International Limited is a privately owned family company with a world-wide reputation for excellence in the design and manufacture of blast finishing, spray wash and ultrasonic cleaning equipment. Formed over 75 years ago, the company is registered to BS EN ISO 9001: 2008 and BS OHSAS 18001:2007, and its head office is located at Skipton, North Yorkshire, in the north of England. Guyson has four international subsidiary companies: Guyson Corporation of the USA, located in Saratoga Springs, New York State; Guyson SA, situated near Paris, France; Guyson Sdn Bhd in Penang, Malaysia; and Guyson CN, in Wuxi, Jiangsu Province, China.
Subjects
---
Ultrasonic tattoo gun cleaning
Kerry ultrasonic baths
Tattoo gun cleaning