Press release
July 4, 2011
Culture
Lightworks in Clitheroe bring a Bolton's Family to life through Stained Glass Windows and etched leaded Glass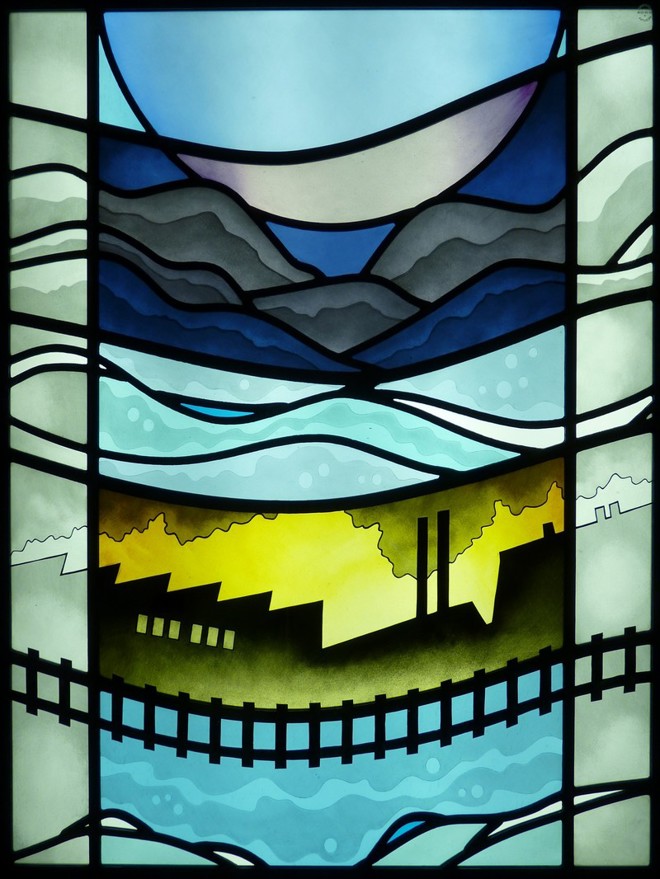 Lightworks in Clitheroe specialists in Stained Glass won a Large Scale Private Commission for a Domestic Residence in Bolton Manchster - Stained, acid etched & leaded glass.

Three months studio work finally saw the completion of this large scale (1.2 x 3.2m) bespoke stained glasscommission executed in German & Polish cylinder glass, fully stained and kiln fired and with area's of acid etching.

The brief was to produce a Stained Glass Window which contained specific elements relating to our clients life, family and roots. All of which can be read like a story as the viewer passses up and down a spiral staircase adjacent to the window.
In considering the design of The Stained Glass Window, the key elements, which had been helpfully but very crudely scribbled down by the client included Lichfield Cathedral, Middlesbough Transport Bridge, the rolling Staffordshire countryside, the Industrial North East and of key importance - a Scarlett Rose and paw prints.

The project proved to be a great challenge both in terms of the design proposal and also in coming in on budget whilst retaining all the required visual elements. However following a number of minor tweeks to our initial designs our clients were more than happy that we had met this challenge. Installation was completed within budget of £10,000.00.
Lightworks are extremely proud of and happy with this piece of work as are our clients with their new Stained Glass Window. Visit http://www.lightworksstainedglass.co.uk/ to see more of their specialist work.
Contacts
---
Subjects
---
Culture