Press release
February 1, 2010
Tourism
New York, NY – January 14th, 2010 --- Whether in Manhattan for Fashion Week or for a New York City getaway, the Soho Grand and Tribeca Grand, two of the most celebrated downtown Manhattan boutique hotels, are extending an exclusive winter offer to their London visitors; book four nights, for stays through February 28th 2010, and receive the fifth night free.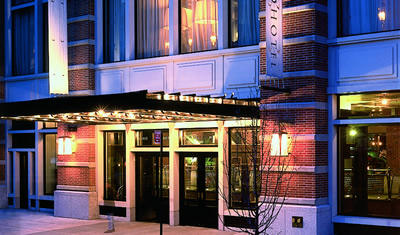 Be in New York on February 11th when fashion's finest descend upon New York City and the Fall 2010 collections are unveiled. At the Tribeca and Soho Grand Hotels, New York, guests get a taste of the downtown lifestyle; the concierges use their connections to get dinner reservations or tickets to the hottest Broadway shows. Guests at the Soho Grand Hotel and Tribeca Grand Hotel have access to Grandlife's exclusive New York City guide; read about the newest restaurant openings, listen to the latest in cutting edge music, and find out where to shop for those coveted designer labels.
For more about the Tribeca Grand Hotel and Soho Grand Hotel, visit their websites - http://www.tribecagrand.com/ and http://www.sohogrand.com/
The Soho Grand Hotel and Tribeca Grand Hotel are centrally located in the heart of downtown Manhattan alongside world renowned art galleries, boutiques and restaurants. Stay minutes away from all major Manhattan attractions including Ground Zero, Times Square, the Empire State Building and Central Park, and adjacent to notable downtown NYC neighborhoods like the Financial District, Chinatown, Little Italy, West Village, and the Meat-Packing District.
With 24-hour guest services and impeccably designed guestrooms, Soho Grand and Tribeca Grand offer visitors the comfort of luxury boutique hotels while offering authentic, downtown New York lifestyle experience.
For reservations
[email protected] enter promo code GRANDINT
Tel. 00 800 7646 4726
Fax: 212 965 3200
Soho Grand Hotel
310 West Broadway
New York, NY 10013
http://www.sohogrand.com
Tribeca Grand Hotel
Two Avenue of the Americas
New York, NY 10013
http://www.tribecagrand.com/
About Grand Hotels, NYC
The Soho and Tribeca Grand Hotels are operated by Grand Hotels NYC.
A pioneer in the industry, Grand Hotels NYC was the first company to establish luxury Manhattan boutique hotels in the downtown New York neighbourhoods of SoHo and
TriBeCa. Grand Hotels NYC is renowned for offering the highest level of personalized service and has continually set industry standards for premier amenities and guest services.
Grand Hotels NYC also reinvented the traditional hotel bar concept by blending nightlife and dining with the opening of Grand Bar & Lounge and Church Lounge – two of Manhattan's key destinations for day or night and a favorite haunt for celebrities, savvy locals and refined travelers alike.
Grand Hotels NYC is owned by Leonard and Emanuel Stern of Hartz Mountain Industries. To find out more and to make reservations, please visit – http://www.sohogrand.com and http://www.tribecagrand.com/
-ends-
For media enquiries, please contact
Lori De Blois
[email protected]
Director of Public Relations
Grand Hotels NYC
Soho Grand | Tribeca Grand
310 West Broadway
New York, NY 10013 USA
Tel. 212-965-3057
fax 212-965-3517
Subjects
---
Tourism