Press release
February 16, 2021
Naturli´
Soft ice
Plant-based
Ice
No more cream, it's made with plants instead. Naturli' from Denmark is known for its 100 per cent plant-based foods, among them world-class ice cream. That is why the company's developers have been working hard for two years to produce a green soft ice, and now it is ready to go on the market. The aim is an international breakthrough for their 100 per cent plant-based soft ice.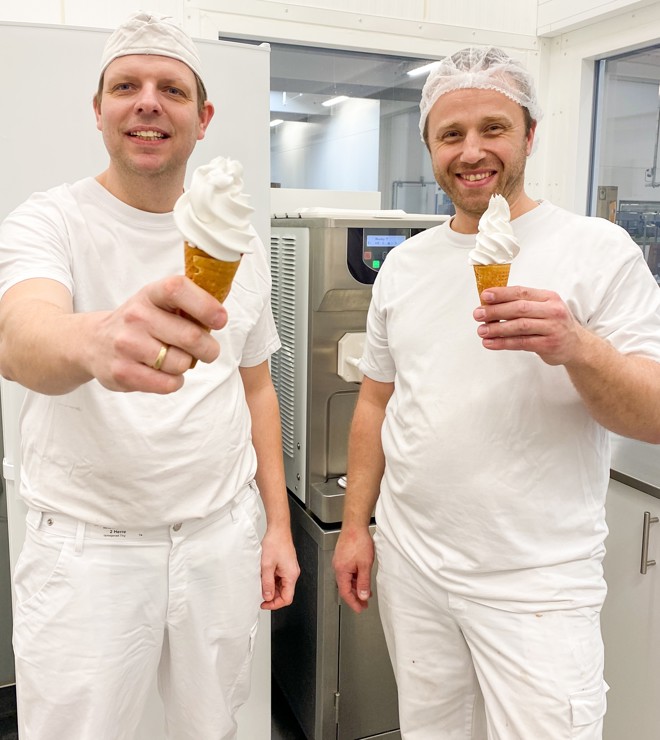 Round the world, people eat millions and millions of soft ices. But now this popular treat is undergoing a major transformation. Naturli' from Denmark have eliminated dairy from the recipe. Their ice cream factory has developed a 100 per cent green soft ice, ready in time for the ice cream season.
"In Denmark alone, 20 million cornets with soft ice are eaten every year, so just think how many millions are eaten on a world scale. That means you have to be incredibly humble, really thorough and quite stubborn if you want to improve on an ice that everybody loves. It is no use coming up with a plant-based soft ice that is OK. It has to be no less than world class. Like the new soft ice we are sending out on the market now, in fact," says Henrik Lund, CEO at Naturli'.
This new soft ice has never been near a cow. It is 100 per cent plant based, made in Denmark based on rice, and rounded off with a delicious vanilla flavour. This green soft ice can be made in the same soft ice machines that are used for the traditional soft ice. Naturli' is already known and recognised for other types of ice made from plants.
It's spine chilling – with enormous expectations
Ice is often eaten in hot weather, but for the developers at Naturli' developing this ice has been a spine-chilling experience.
"It is a fine art to achieve precisely the right creamy consistency that everyone's mouth remembers with a smile. Then it is far more difficult to get that simply perfect vanilla flavour. We wanted to come up with a version that the market had never tasted before, but that would leave everyone wanting more. That is why we have tested and adjusted the recipe, cooled down and heated up, tasting and adjusting the consistency and body for two years," says Claus Sørensen, who has developed the new ice together with his colleague Rasmus Mommer.
The soft ice had to be 'green'
Their ambitions were quite clear: they wanted the new 'green' soft ice to be an international breakthrough. It has already aroused interest in Italy, the home of gourmet ice cream. In Denmark it will be taking over 75 per cent of the market inside three years.
"The market for plant-based foods is growing very rapidly in large sections of the world. Foods are responsible for 20-25 per cent of man-made CO2 emissions. That is why it is so important to think about how the foods of tomorrow can make far less impact on the planet than the foods most of us have known since we were children. The foods of the future will be far more plant based, as consumers are well aware. So consumers must also have that choice when they decide to treat themselves to a good ice. Once they discover that the plant-based soft ice tastes at least as good as – or better than – the familiar version with cream, then the choice is easy," says Henrik Lund.
His goal is that at ice cream stands and cafés and wherever people go to enjoy an ice, the choice of the future will be plant-based ice.
Photos are attached for press use:
Claus Sørensen, left, and his colleague Rasmus Mommer have developed the new green soft ice for Naturli'. It has been hard work to achieve the perfect creamy consistency.
Subjects
---
Naturli´
Soft ice
Plant-based
Ice