Press release
October 10, 2012
Family
Forget the heavy yet humble, old, wobbly Wellington boot, and wrap your Mini one's feet in the sporty, waterproof boots that are taking the UK thunderstorm by thunderstorm! Mini Social are proud as puddles to be working alongside, introducing, and highly recommending to our big gang of parents and families; these ingenious waterproof boots – rainSplats; for kids who love to run, climb, scoot & best of all splash!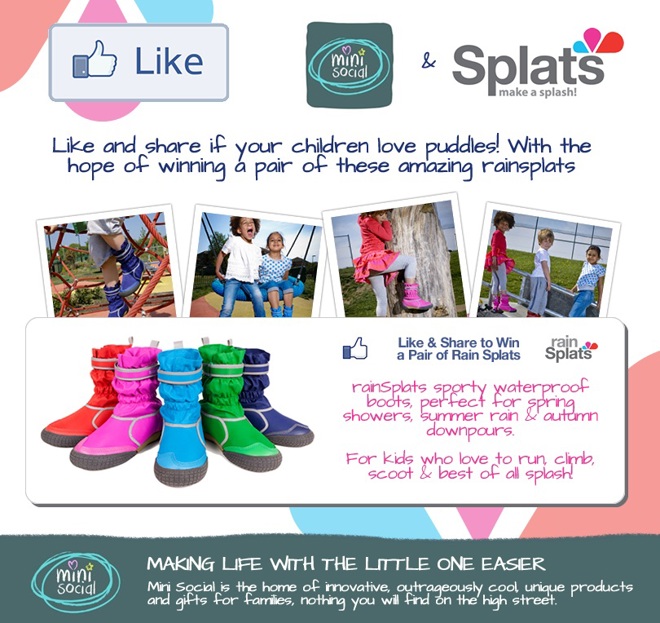 Only someone called Rainbow could envision such an urban twist on the 150 year old welly boot design, which was originally made and intended for farmers. Alongside her good friend Amy, and with their 7 eager testers and children at hand, these lovely London mummies threw caution to the wind, and reinvented how modern children play outdoors in our wonderfully wet spring showers, summer rain and autumn downpours.
Gone are the days where we haul our children's hefty, ill-fitting, burdensome wellybobs though parks, festivals, and playgrounds, and born are the waterproof but breathable, lightweight but durable, brightly coloured but fashionable, fabulously foldable modern boots that offer a non slip hard sole, a form fitting insole – and plenty of urban adventure soul!

You won't be ringing out wet socks, or warming tiny toes by the fire, simply adjust the clever velcro straps to snuggle those precious mini feet into these stay dry miracle boots.
Fun and function are perfectly harmonised, allowing our children to climb it, kick it, ride it, jump it and most importantly - splash it!
With the backing of many a celeb Mum, we think it's time you threw those bulky boots out and made a more comfortable urban splash with these ingenious updated wellies – rainSplats
Mini Social has two pairs to GIVE away…
Like and share if your children love puddles!
With the hope of winning a pair of these amazing rainSplats
Every path has its puddle – now we can jump in it!
Subjects
---
Family