Press release
September 2, 2014
Football
Books
Young adult fiction
Soccer
Teens
Young adult books
Young Adults
Fiction
Goalden Sky is the long-awaited first sequel to Goalden Girl, published in 2007. It is available in paperback and Kindle and there are plans to add the book to other ebook formats.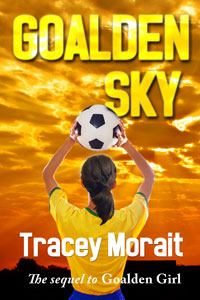 Why did readers have to wait seven years for a sequel? It wasn't on the author's mind to write one, not immediately after Goalden Girl was published. Other projects got in the way, and because it takes her about a year to a year and a half to write a book, suddenly it was 2013 and she thought she'd better get on with it. Not only that, many of her readers were nagging her to do it, and she did want to write more football stories, and so Goalden Sky was born.
Like the prequel, the title is a play on words, 'goal' to represent the football: 'Goalden Sky' is poached from a line in the song You'll Never Walk Alone: '...at the end of the storm is a golden sky...' The story carries on from Goalden Girl with the story of Gemma Sutherland and her family and friends, but this time the emphasis is on her stepsister Portia, who wants to be as good at football as Gemma. When Portia has a serious accident, the Sutherlands' world is turned upside down. Is there a golden sky at the end of the storm for Portia? Will she ever be able to walk again?
Although seven years have passed in real terms, both girls in the story are only a year older. Gemma has moved up to Year Ten and is studying for her mock GCSEs; Portia is in her final year at primary school. Gemma's dad wants her to give up playing football for a while and concentrate on her exams, but Portia's accident makes him change his mind. He tells her that although he wants her to work hard at school she should also pursue her dreams – until the National Girls' School Tournament starts: then he starts to get worried about her schoolwork again! All the old characters appear, like Tyrone, Daz, Tanya, Tim and Lizzie, and there is plenty of football to keep the reader occupied while all the sub-plots are going on in the background, like the Daz/Tanya 'is it on or is it off?' saga; it is because of the boy/girl relationships that the author has decided to put the book into the young adult/teen category instead of the age 9-12 readership of Goalden Girl. This may disappoint some younger readers who enjoyed the prequel, and they may argue it won't make much difference to them, but the author believes it was the right decision to raise the age range.
Goalden Sky was published in September 2014, paperback price GBP 5.90, ISBN: 9780955855030.
Kindle edition: GBP 1.99 UK and Ireland, $1.99 in the US, and Euro 1,99 in Europe; also available in Japan, Mexico, India, Australia and Brazil.
Website: traceymorait.co.uk
Twitter: https://twitter.com/tmoraitauthor
Facebook page: https://www.facebook.com/pages/Tracey-Morait/8925590438
Subjects
---
Football
Books
Young adult fiction
Soccer
Teens
Young adult books
Young Adults
Fiction