Press release
May 29, 2008
Energy & Environment
Seisma Oil Research, LLC, of Boca Raton, Fl Has Added Cutting Edge Functionality, Content And Improved Design To Their Corporate Web Presence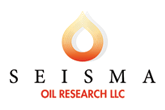 Boca Raton, FL Seisma Oil Research, LLC is pleased to announce the launch of its recently improved website. The up-graded website offers many of the same great features as the previous site; however, Seisma Oil Research has made the site more user-friendly through a newly engineered layout, as well making it easier to navigate with their updated corporate look and greatly expanded content.

New Content And New Tools
New and informative sections have been added to the website including up-to-date Oil and Gas Quotes and news headlines, four Oil and Gas Investment Calculators and video presentations that describe the manner in which Seisma drills for the oil and gas that they prospect for. For newcomers to Seisma Oil Research there is an extensive archive of all previous Seisma press releases and newsletters for their reference use in performing due diligence on Seisma.
When asked to comment on the launch of the website, and what current and prospective clients can expect, Seisma Oil Research's President and Managing Partner Justin Solomon had this to say, "In today's fast paced world it only makes sense for us to continually strive to improve our web presence and IT tools. We employ all the latest techniques to prospect, drill and develop our oil and gas opportunities, so we feel it is only commensurate with that philosophy and effort to improve our website, our administrative services and the myriad of aspects related to our being a cutting edge company, within a very competitive industry." Solomon continued to enthusiastically elaborate, "We respect the fact that we are in a competitive environment and that there are many companies and sectors seeking the global investment dollars that are out there. We hope that by continually improving ourselves and our product, and by providing our clients with more information, facts and tools about our industry, we are able to garner our fair share of savvy investors and their funds and, most importantly, win their loyalty. We know this is the only way to maintain a long-term and mutually beneficial relationship with those clients who have taken that all too crucial step and invested with us. Everyone realizes investing requires a leap of faith to some degree, but Seisma hopes to temper that with a good healthy dose of confidence, credibility and a stellar track record. We owe it to ourselves, our industry partners, business adviser's and, most importantly, to our valued clients."

About Seisma Oil Research, LLC
When called upon to bring their partners preeminent and technically sound state-of-the-art oil and gas-drilling programs to market, Seisma Oil Research, LLC continues to deliver, barrel upon barrel. Seisma was conceived, engineered and placed to become a global conduit for an increasingly demanding industry. Seisma Oil Research, LLC has already surpassed its primary expectations by expanding partnerships and opening world markets and is now forging ahead within new partnerships and associations.
Through their unique brand of corporate management they are able to offer opportunities to prospective investors that have, until their arrival in the market place, been historically unattainable by many of their partners around the globe. Supported by decades of executive experience, industry knowledge and relationships and the best technology on offer, Seisma Oil Research, LLC continues to develop and expand their partnerships and portfolio of energy focused investments.
Seisma's principal responsibility to its investors is to intelligently acquire, operate, explore, exploit and develop oil and gas properties. Their portfolio includes production, exploration, pipelines and water rights, with a new value added emphasis on renewable energies such as ethanol and bio diesel they continually strive to be among the cutting edge this industry's leaders.
Seisma's operations are carried out predominantly in the Mid-Continent Region, Permian Basin, and Gulf Coast/Gulf of Mexico. Their partners are positioned around the globe, and by having preferential access to Seisma's research they are enabled to actively participate in Seisma's growth. Their success is wholly based on the enthusiasm, commitment, and talent of our people. The ethos of our corporate culture is one of integrity, innovation, accountability and team effort.

Inquires and Contact
Seisma Oil Research, LLC
433 Plaza Real
Suite 275
Boca Raton, FL 33432
USA
Phone: 561.962.4288
Fax: 561.962.4101

This press release may include forward-looking statements as defined by the Securities and Exchange Commission. Such statements are those concerning forecasts, estimates, expectations and objectives for future operations. Such statements are subject to a number of assumptions, risks and uncertainties, many of which are beyond the control of the company. Statements regarding future production, reserve additions and capital expenditures are subject to all of the risks and uncertainties normally incident to the exploration for and development and production of oil and gas. These risks include, but are not limited to, inflation or lack of availability of goods and services, environmental risks, drilling risks and regulatory changes. Investors are cautioned that any such statements are not guarantees of future performance and that the actual results, or developments, may differ materially from those projected in the forward-looking statements. The above mentioned program has been fully funded and is not available to new investors.
Subjects
---
Energy & Environment