Press release
June 16, 2008
Business
In their continuing effort to become an active part of the city's business-scape Seisma Oil Research has joined the local Chamber of Commerce.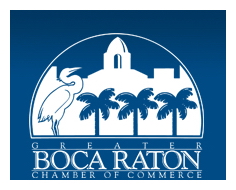 Seisma Oil Research, LLC Has Been Accepted For Membership In The Greater Boca Raton, FL Chamber Of Commerce. In their continuing effort to become an active part of the city's business-scape Seisma Oil Research has joined the local Chamber of Commerce. The Chamber is a dynamic professional business organization composed of more than 1,700 companies representing well over 35,000 employees. The Chamber promotes an environment that can maximize Seisma's investments, business potential and profitability. The Chamber and its committees focus on issues such as education, public affairs and economic development. By participating, Seisma will be able to make a positive impact in the Greater Boca Raton area, while gaining knowledge and contacts that will help with Seisma's growth.
"We are a young company," said Justin Solomon, Boca Raton resident and a co-founding partner of Seisma, "and we are doing everything we can to become, not only a great Oil and Gas Exploration Company, but a vital part of the community in which we live and conduct our business. By joining The Chamber of Commerce, we will also form business relationships that can help foster our bottom-line and our integration into the greater business community as a whole. All of this helps to benefit our partners, assure us a steady rate of growth and increase our reach."
Contact Information for the Greater Boca Raton Chamber of Commerce is:
1800 North Dixie Highway
Boca Raton, FL 33432
Tel: 561.395.4433
Fax: 561.392.3780
E-mail: [email protected]
About Seisma Oil Research, LLC
When called upon to bring their partners preeminent and technically sound state-of-the-art oil and gas-drilling programs to market, Seisma Oil Research, LLC continues to deliver, barrel upon barrel. Seisma was conceived, engineered and placed to become a global conduit for an increasingly demanding industry. Seisma Oil Research, LLC has already surpassed its primary expectations by expanding partnerships and opening world markets and is now forging ahead within new partnerships and associations.
Through their unique brand of corporate management they are able to offer opportunities to prospective investors that have, until their arrival in the market place, been historically unattainable by many of their partners around the globe. Supported by decades of executive experience, industry knowledge and relationships and the best technology on offer, Seisma Oil Research, LLC continues to develop and expand their partnerships and portfolio of energy focused investments.
Seisma's principal responsibility to its investors is to intelligently acquire, operate, explore, exploit and develop oil and gas properties. Their portfolio includes production, exploration, pipelines and water rights, with a new value added emphasis on renewable energies such as ethanol and bio diesel they continually strive to be among the cutting edge this industry's leaders.
Seisma's operations are carried out predominantly in the Mid-Continent Region, Permian Basin, and Gulf Coast/Gulf of Mexico. Their partners are positioned around the globe, and by having preferential access to Seisma's research they are enabled to actively participate in Seisma's growth. Their success is wholly based on the enthusiasm, commitment, and talent of our people. The ethos of our corporate culture is one of integrity, innovation, accountability and team effort.
This press release may include forward-looking statements as defined by the Securities and Exchange Commission. Such statements are those concerning forecasts, estimates, expectations and objectives for future operations. Such statements are subject to a number of assumptions, risks and uncertainties, many of which are beyond the control of the company. Statements regarding future production, reserve additions and capital expenditures are subject to all of the risks and uncertainties normally incident to the exploration for and development and production of oil and gas. These risks include, but are not limited to, inflation or lack of availability of goods and services, environmental risks, drilling risks and regulatory changes. Investors are cautioned that any such statements are not guarantees of future performance and that actual results or developments may differ materially from those projected in the forward-looking statements. The above mentioned program has been fully funded and is not available to new investors.
Subjects
---
Business