Press release
February 21, 2009
Energy & Environment
The Los Dos Apaches Joint Venture Project has struck gas proving once again that Seisma Oil Research, LLC is a premier choice for oil and gas investment. Seisma Oil Research and their Industry Partner Evans Energy (E2) are happy to announce that the Los Dos Apache well #6 is in the completion stage and is already a proven success.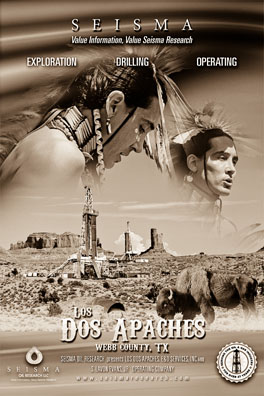 Boca Raton, FL February 21, 2009 - Seisma Oil Research and their Industry Partner Evans Energy (E2) are happy to announce that the Los Dos Apache well #6 is in the completion stage and is already a proven success. Evans Energy's history of having historically extracted large amounts of hydrocarbon products out of the reservoirs beneath Webb County, Texas since 2005 is the compelling reason Seisma, their primary partner, expects to see similar results from Los Dos Apaches part one and soon part two, Los Dos Apache well #12, respectively.
Both wells have been sunk to approximately 10,000 +/- vertical feet into the Hinnant 1 and Hinnant 3 Formations to estimated reserves totaling approximately 3 to 5 billion cubic feet. Los Dos Apache well #12 has a secondary formation, Hinnant 2 and Hinnant 4 through 7, Middle Wilcox.
:: About Seisma Oil Research, LLC
When called upon to bring their partners preeminent and technically sound state-of-the-art oil and gas-drilling programs to market, Seisma Oil Research, LLC continues to deliver, barrel upon barrel. Seisma was conceived, engineered and placed to become a global conduit for an increasingly demanding industry. Seisma Oil Research, LLC has already surpassed its primary expectations by expanding partnerships and opening world markets and is now forging ahead within new partnerships and associations.
Through their unique brand of corporate management they are able to offer opportunities to prospective investors that have, until their arrival in the market place, been historically unattainable by many of their partners around the globe. Supported by decades of executive experience, industry knowledge and relationships and the best technology on offer, Seisma Oil Research, LLC continues to develop and expand their partnerships and portfolio of energy focused investments.
Seisma's principal responsibility to its investors is to intelligently acquire, operate, explore, exploit and develop oil and gas properties. Their portfolio includes production, exploration, pipelines and water rights, with a new value added emphasis on renewable energies such as ethanol and bio diesel they continually strive to be among the cutting edge this industry's leaders.
Seisma's operations are carried out predominantly in the Mid-Continent Region, Permian Basin, and Gulf Coast/Gulf of Mexico. Their partners are positioned around the globe, and by having preferential access to Seisma's research they are enabled to actively participate in Seisma's growth. Their success is wholly based on the enthusiasm, commitment, and talent of our people. The ethos of our corporate culture is one of integrity, innovation, accountability and team effort.
:: About Evans Energy (E2)
Through generations of experience, E2 has developed, drilled, and/or produced hundreds of wells across the country. Being a strong independent Evans Energy has its own rigs and can mobilize them at any time and to almost any location.
Evans Energy takes enormous pride in their drilling teams and rigs. With a "safety first" attitude their Rig Managers and Hands are all highly motivated professionals dedicated to the success of every prospect.
:: Their Philosophy
As a child Lavon Evans was greatly influenced by his grandfather who taught him the value of hard work and respect for everyone. Lavon's grandfather owned a small country store that became the foundation of Lavon's entrepreneurial spirit and work ethic. Evans Energy is today the result of that development of work, pride and fair play.
:: Their Goals
Evans Energy (E2) knows success is a team effort and not merely a cliche. The Evans team is always focused on the prize of a successful well and a financially successful operation. With over 400 commercial wells under their belt, they have succeeded in establishing processes that are proven and profitable. E2 will continue to leverage past successes in order to develop new opportunities in all areas of the company's services which include exploration, operation and "contract" drilling.
:: Their Strategy
Evans Energy utilizes years of drilling and operating experience to intelligently select those prospects with the most potential for commercial success. Evans Energy is continuously reviewing and streamlining all areas of the company with the objective of increasing efficiencies and enhancing profitability.
:: Where They Have Been
S. Lavon Evans, Jr. founded and created S. Lavon Evans, Jr. Operating Company, Inc. in January of 1989 and the rest, as they say is history. The company has a rich history of hundreds of successful wells across Mississippi, Alabama, Tennessee, Kentucky, Ohio, Louisiana and Texas. From pioneer wildcatting in the Black Warrior Basin to the swamps of South Louisiana and the wide open spaces of South Texas, Lavon built his company along with a reputation of honesty, hard work and a knack for knowing a good prospect. Lavon is a true "oilman" and his company is true Oil & Gas. Today, the company Lavon founded has evolved to become Evans Energy.
Evans Energy considers itself to be a hydrocarbon hound dog. Lavon and his team have seen literally thousands of prospects. Experience has taught them to recognize some of the most subtle geological problems that can determine a well's success or failure. There are a lot of "so-so" prospects out there and finding the best risk vs. reward opportunity only comes through practical experience and trusted advice. They are not newcomers. Their years of doing business in the "oil patch" have created lifelong friendships that are priceless business allies and prospects that are crème de la crème.
You may visit Evans Energy online at www.evansenergyonline.com.
####
Subjects
---
Energy & Environment