Press release
August 10, 2009
Energy & Environment
Seisma Energy Research, AVV Clients can now view the drilling process on streaming video via the Internet 24/7.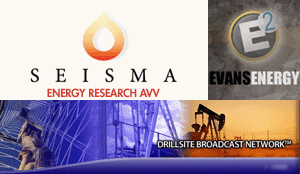 August 7, 2009 Webb County, TX – Seisma Energy Research, AVV is pleased to announce that the Los Dos Apache #12 well has begun drilling as of August 5, 2009. The well will be drilled to the vertical depth of approximately 10,000 feet. The objective formations for LDA #12 are the Top Wilcox, Hinnant 1 and Hinnant 3. The secondary formations are: Hinnant 2, Hinnant 4 through 7 and the Middle Wilcox (perdido). We are anticipating flow rates for LDA #12 to be in the neighborhood of 1,800 MCFGE - 4000 MCFGD.
Seisma Energy Research, AVV is the Joint Venture Manager and Evans Energy (E2) is the operator.
Seisma and their partners are excited to inform everyone that drilling operations for this project will be broadcast live via video stream, direct from the drill site and derrick, by utilizing Drillsite Broadcast's streaming video technology. This is all a part of Seisma's continuing efforts to keep all their partners up-to-date and "on site" while drilling progresses.
:: About Drillsite Broadcast Company
Drillsite Broadcast Company is "Your Eyes in the Oil Patch™".
Drillsite Broadcast Company provides Satellite Communications Systems and its proprietary Remote Drillsite Broadcast System (RDBS™) to Oil and Gas Drilling Operators and Contractors.
The RDBS™ delivers Satcom, Data, VO/IP and the real-time live streaming video from the drilling rig directly to any computer, lap top, or other Internet enabled monitoring device.
The RDBS™ unit deploys on call to the drilling rigs. With accountability, safety, and security at a premium for drilling operations, employing the leading technology of RDBS™ ensures top operational communication.
:: About Evans Energy (E2)
Through generations of experience, E2 has developed, drilled, and/or produced hundreds of wells across the country. Being a strong independent Evans Energy has its own rigs and can mobilize them at any time and to almost any location.
Evans Energy takes enormous pride in their drilling teams and rigs. With a "safety first" attitude their Rig Managers and Hands are all highly motivated professionals dedicated to the success of every prospect.
:: Evans' Strategy
Evans Energy utilizes years of drilling and operating experience to intelligently select those prospects with the most potential for commercial success. Evans Energy is continuously reviewing and streamlining all areas of the company with the objective of increasing efficiencies and enhancing profitability.

:: Where Has Evans Been?
S. Lavon Evans, Jr. founded and created S. Lavon Evans, Jr. Operating Company, Inc. in January of 1989 and the rest, as they say is history. The company has a rich history of hundreds of successful wells across Mississippi, Alabama, Tennessee, Kentucky, Ohio, Louisiana and Texas. From pioneer wildcatting in the Black Warrior Basin to the swamps of South Louisiana and the wide open spaces of South Texas, Lavon built his company along with a reputation of honesty, hard work and a knack for knowing a good prospect. Lavon is a true "oilman" and his company is true Oil & Gas. Today, the company Lavon founded has evolved to become Evans Energy.
Seisma Energy Research, AVV

Montania Plaza 238
Noord, Aruba
Phone: +297.583.2834
Fax: +297.583.2835

Seismas Secure Web-based Form For Inquires and Contact
This press release may include forward-looking statements as defined by the Securities and Exchange Commission. Such statements are those concerning forecasts, estimates, expectations and objectives for future operations. Such statements are subject to a number of assumptions, risks and uncertainties, many of which are beyond the control of the company. Statements regarding future production, reserve additions and capital expenditures are subject to all of the risks and uncertainties normally incident to the exploration for and development and production of oil and gas. These risks include, but are not limited to, inflation or lack of availability of goods and services, environmental risks, drilling risks and regulatory changes. Investors are cautioned that any such statements are not guarantees of future performance and that the actual results, or developments, may differ materially from those projected in the forward-looking statements. The above mentioned program has been fully funded and is not available to new investors.
Subjects
---
Energy & Environment