Press release
February 10, 2010
Business
Businesses looking for software that is proven to reduce costs and promote overall efficiency are advised by DMC Software Solutions to consider Sage ERP XS. The CRM and accounts software promotes business growth.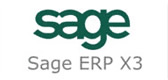 Sage ERP X3 is an Enterprise Resource Planning (ERP) solution integrating all business and management processes within a single system. Accounts, purchasing, sales, inventory, manufacturing and Customer Relationship Management (CRM) functions reside in a single database enabling organisations to streamline operations, enhance collaboration, both internally and externally, and improve business insight.
Rob Pope, DMC Software Business Development Manager said, "Sage ERP X3 is a great opportunity for DMC to help organisations grow efficiently and reduce operational costs without the overhead of expensive to deploy and maintain applications.
"Sage ERP X3 is based on Sage's philosophy of great power through simplicity – simplicity of deployment and user experience makes manipulating complex and critical information easy, improving interactions and efficiencies across a business."
Sage ERP X3 consolidates all processes within a business and makes information easily accessible to users across departments. Up to the minute information enhances internal communications while enabling better customer service- key to retaining business in the current economic climate. In addition, Sage ERP X3 holds all data in the same database therefore the need to rekey data is removed enhancing business efficiency and workforce productivity allowing more time to be focused on key areas of the business.
Many businesses when they take on an ERP solution do not know what functionality will be required in years to come as the business transforms. Sage ERP X3 is unique because it is flexible and adaptable- functionality, users and additional branches can be activated as the business moves forward without the need for additional costly developments.
About DMC Software
DMC Software is a company that is experienced in providing Customer Relationship Management (CRM), Accounts and integrated business solutions for businesses of all sizes, across a broad range of industries including ACT! by Sage, Sage CRM, Sage SalesLogix CRM and Microsoft Dynamics CRM. With advanced development abilities DMC can tailor a solution to meet the exact requirements of a business, providing the tools and supporting services to increase efficiency and profitability. For more information on the CRM solutions and professional services available from DMC Software visit http://www.dmcsoftware.co.uk. Alternatively, email [email protected] or call FREEPHONE 0800 6522 423 to speak to a member of the sales staff.
- ENDS –
For more information please contact Jade Dixon-Winters, Marketing Executive.
Email: [email protected] Tel: 01733 362120
Subjects
---
Business