Press release
November 23, 2012
Family
This super stylish car seat cover keeps your little ones warm & protected from the elements. It slips easily & securely over most car seats & has a uniquely designed 'V window' so baby can look out.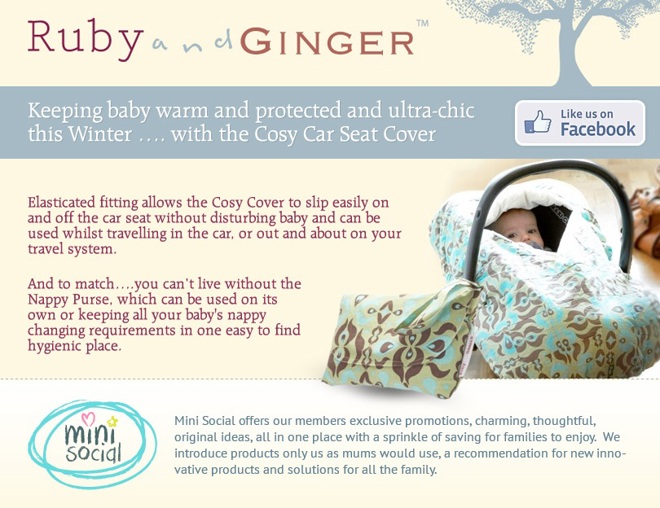 Weather forecasters are once again predicting freezing temperatures this winter. With the great British weather that we have, how do we keep our mini ones warm, comfortable and safe when we carry them to and from the car, whilst we are out & about so frequently at the moment?
Blankets that fall off onto wet floors, coats, gloves & woollen hats that we constantly have to take on & off to match our surroundings, can often be anything but practical. There have been a surge in car seat covers that do indeed state what they do, and cover the seat itself, but what about protecting baby from the chilly breezes and such too?
An acclaimed & award winning company offering imaginative products for the modern family have looked into this, and very cleverly come up with just the solution to keep our Mini ones warm and comfortable this winter. Introducing, the Cosy Car Seat Cover by the firm that merges innovation & style, with affordability & practicality; Ruby & Ginger.
Warm and comfortable babies are often happy babies and Ruby & Ginger present to you quality, must-have travel accessories for modern mummy's on the go. With this Cosy Car Seat Cover, your mini ones will be kept warm and protected from wind and other elements at all times, and the elasticated cover allows the Cosy Cover to slip easily on and off the car seat without disturbing baby. Not only can The Cosy Cover be removed from the travel system and washed easily, but it fits most major brands and models of infant car seats. Furthermore, it's uniquely designed with a special 'V window' so baby can look out, and you can see them too, whilst the strategic design also ensures that baby's safety harnesses can be tightened correctly.
As you will see it comes in beautifully designed colours & quality tog 3+ materials which, along with its use, is probably why this infant car seat cover is getting so much attention at the moment. Many a celebrity has been seen protecting their little ones in style with this Cosy Cover, keeping them snug as a bug, and as safe as possible.
If you head over to Mini Social at the moment, they have joined forces with the magnificent people at Ruby & Ginger. They are kindly offering 1 winner a Cosy Car Seat Cover, along with a super stylish Nappy Purse, that not only stores all your baby's nappy changing requirements in one easy-to-find hygienic place, but matches your Cosy Car Seat Cover too!
"Ruby & Ginger's products have been developed from the everyday need to find practical solutions for parents and families on the move. Innovation and quality are at the heart of everything Ruby and Ginger do."
Subjects
---
Family