Press release
March 4, 2009
Sport
The first company in the UK to produce high quality maps of the Wharfe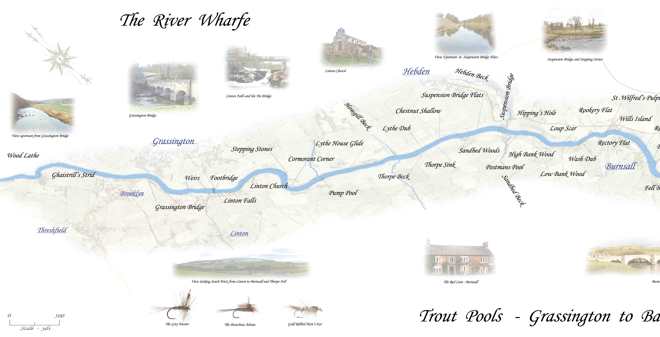 Fishing with Style are please to announce the launch of the new range on maps of the River Wharfe for the fly fisherman.
The maps show the pool and beat names of the river together with images of local interest and the most popular flies to use
For much of its length the River Wharfe is the county boundary between West Yorkshire and North Yorkshire.
The name Wharfe is Celtic and means "twisting, winding".
The valley of the River Wharfe is known as Wharfedale. Its source is at Langstrothdale Chase in the Yorkshire Dales National Park, and flows through Kettlewell, Grassington, Appletreewick, Barden Towers, Bolton Abbey, Addingham, Ilkley, Burley in Wharfedale, Otley, Wetherby, Tadcaster, then flows into the River Ouse near Cawood. The Wharfe has a reputation of being very dangerous, in that many people have drowned while swimming in it. It is also said that the Wharfe is the fastest rising river (spate) in Europe so care should be taken when wading during rainy periods.
Slightly north of Bolton Abbey is The Strid, a point at which the whole river is channelled through a narrow gorge. At its narrowest, it is less than two metres across at the surface. The gap looks eminently jumpable but this is deceptive due to the fact that many of the ledges on the sides are at different heights and are often very slippery. Scottish throne hopeful The Boy of Egremont, immortalised in the Orkneyinga and in a poem by William Wordsworth, drowned here in 1157 while attempting to leap across the gap on horseback. Fierce currents that run through this section drag down any hapless victim where they become trapped among the underwater ledges and the hollows carved by the rapids. Please be careful.
All maps are printed on a top quality white paper and come rolled in a tube or we can arrange for a custom-made frame to be supplied.
http://www.fishingwithstyle.co.uk/riverwharfemaps.htm
Subjects
---
Sport