Press release
November 29, 2014
LONDON
Finance
INVEST
INVESTMENT BANKING
Investering
CAMEROON
Trees
Environment
Denmark
Danish
50,000 acres T for Trees plantation project in Cameroon, Central Africa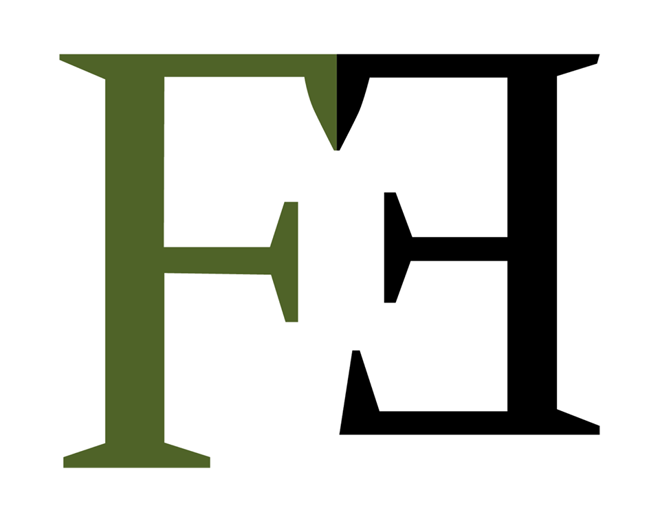 Forest Economics Ltd. announced the signing of an agreement with the Canadian company,Integra Global Green Energy Inc. for a 50,000 acres T for Trees plantation project in Cameroon, Central Africa.
The Joint Venture between the two organizations will be an ongoing project over the next many years, planning to start in the first quarter of 2015 with a plantation of 1,000 acres. As part of the project strategy it will employ 100 local workers for each 1,000 acres of land cultivated, and will provide them with housing for the workers, a school to secure the education of their children and a health center to provide good medical facilities. This way the entire project will not only help to improve the climate and the environment but also help improve the living conditions of the local communities significantly.
"The entire project will require a substation funding of more than USD 50 million during the first years, but the value of the project will be much higher hence it´s a safe investment. We are working close with both the local communities, the government in the country and are also attracting assistance and support from international charitable organizations to fulfill this exciting venture. We see it as a very financial profitable project and as a side benefit for helping the locals and the country as a whole" says Per Brogard, the CEO of Forest Economics Ltd.
He continues: "As part of the agreement our subsidiary in Africa will oversee the management of this venture – and together with other similar projects around Africa – it will propagate and justify the entire T for Tree mission, to plant millions of new trees in a financial secure ecosystem".
The Regional Director of Forest Economics Africa Ltd., Mesumbe Alan Ebong says: "This opportunity for Cameroon is an honor to be a part of and I am looking forward to take the responsibility for the plans in order to implement this. The project itself fits directly into Forest Economics´s investment portfolio and plans for the African market which includes agriculture, forestry and financial services. That we are now also able to help the weaker part of the population is a gift in itself – what more can you ask for?".
According to the plans the organizations will create a new Joint Venture company named "T for Trees Cameroon", where the operational work will be undertaken.
For Media and Investor Inquiries contact:
Per Brogard
CEO, Forest Economics Ltd.
E-mail: [email protected] – Direct Phone: +45-20494842 – Skype: per.brogard
About Forest Economics Ltd.
Forest Economics Ltd. is a UK and Denmark-based financial and investment consultancy company founded by the Danish businessman and financier, Mr. Per Brogård. It service it´s international entrepreneur and investor clients with corporate finance assignments like international fundraising, debt solutions, investment advice and accounting.
Forest Economics Africa Ltd.is a subsidiary with office in Cameroon covering Forest Economics´ activities in Africa. It provides African businesses, investors and government's consultancy services within management, investment and finance and assisting international companies with market penetration and market entry into the African market.
About T for Trees
T for Trees is a component project of Integra Global Green Energy Inc. in Canada founded by Mr. AbdulAziz Abbas, with a mission to plant 20 billion fast growing trees around the world. To help the environment and climate change, to provide jobs, reduce poverty in local communities, provide houses for workers and build schools to secure education to the workers children. At present there is ongoing T for Trees´ project in four continents.
Subjects
---
LONDON
Finance
INVEST
INVESTMENT BANKING
Investering
CAMEROON
Trees
Environment
Denmark
Danish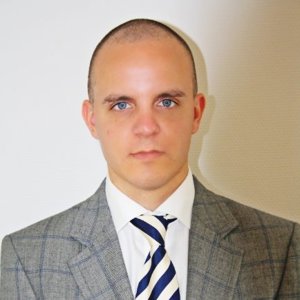 Per Brogard, CEO of Forest Economics Ltd.
Download | 0.03 MB | 434 x 434 | .jpg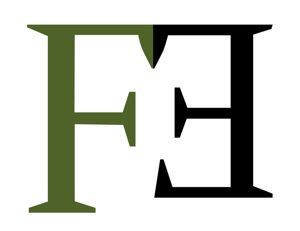 Forest Economics Ltd.´s Logo
Download | 0.02 MB | 739 x 960 | .png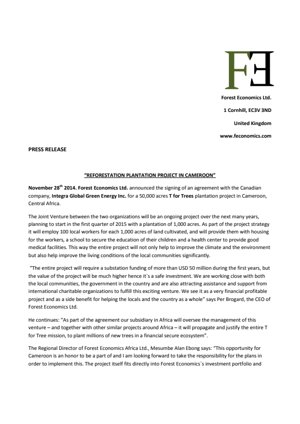 Download | 0.31 MB | .pdf
Zip and download all files