Press release
April 9, 2008
Music
This summer musical theatre takes on rock and loses - special London preview and world premiere announced for new British rock musical Rasputin Rocks!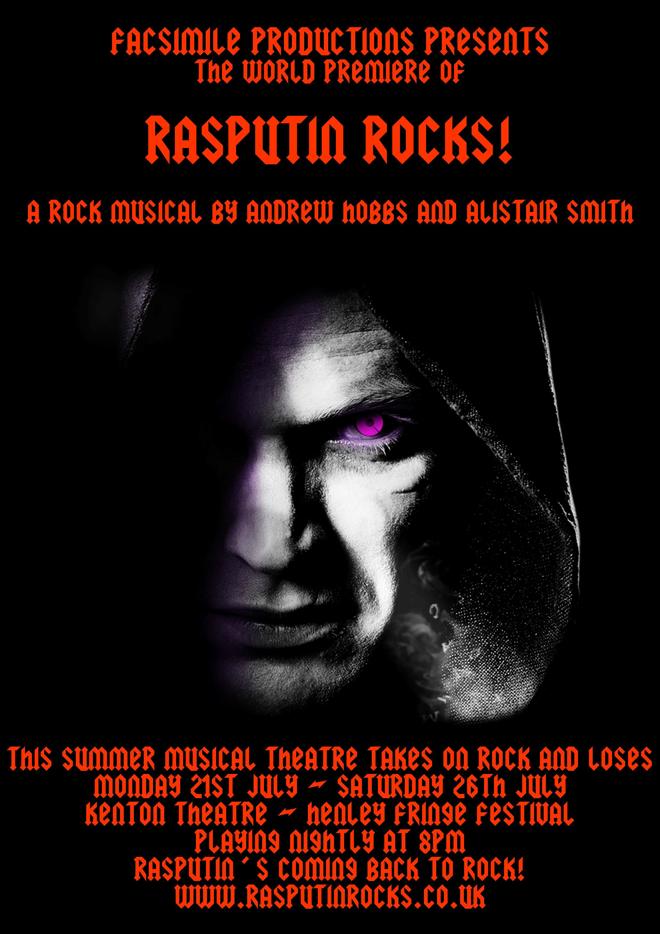 Facsimile Productions are delighted to announce that the world premiere of new rock musical Rasputin Rocks!, by Andrew Hobbs and Alistair Smith, will be taking place at this summer's Henley Fringe Festival. The show is honoured to have secured the festival's main venue, the Kenton Theatre, where the show will be playing from Monday 21st to Saturday 26th July 2008 at 8pm nightly. Tickets are priced at £7 and will be available from
www.rasputinrocks.co.uk
very shortly.
Before this, there will also be another special preview night held at the Wilmington Arms in London. Following on from the massive success of An Evening With Rasputin in March, An Audience With Rasputin will take place on Thursday 15th May 2008 at 7.30pm. The show's house band Rasputin and the Mad Monks will once again be taking to the stage to perform songs from the show including all new never before heard material, as well as guest vocal spots from the likes of hero fo the free world Tony Blair and the immortal mad monk himself Grigori Rasputin, as a team of revolutionaries obsessed with the cheesier aspects of Western culture desperately try to stop an insane Russian Emperor from realising his dream of a global nuclear dawn. This show will take place at the Wilmington Arms, 69 Rosebery Avenue, Clerkenwell, London EC1R 4RL (nearest tube Farringdon). Tickets are priced at £4 advance/£5 on the door and are available from
www.rasputinrocks.co.uk
or over the phone on 020 8318 4999.
We are also delighted to announce that demo recordings of three of the songs are now available to listen to on our website
www.rasputinrocks.co.uk
. You can hear exclusive previews of Rasputin Rocks, Nuclear Dawn and Resistance Isn't Futile. These recordings were produced by John Greves, formerly of Hawkwind and currently playing with acclaimed rock outfit Space Ritual, and feature performances by the writers Alistair Smith and Andrew Hobbs alongside Anton Shelupanov, formerly with Misnomer and currently fronting Bleak, and musical theatre sensation Lucyelle Cliffe.
For more information on Rasputin Rocks!, please contact David Walls at Facsimile Productions.
Subjects
---
Music