Press release
August 4, 2013
Food & Wine
Taking a leaf out of Andy Bates street food experiences, Joanne Haworth and her family have brought quality street food to the kerb side in Altham, Lancashire.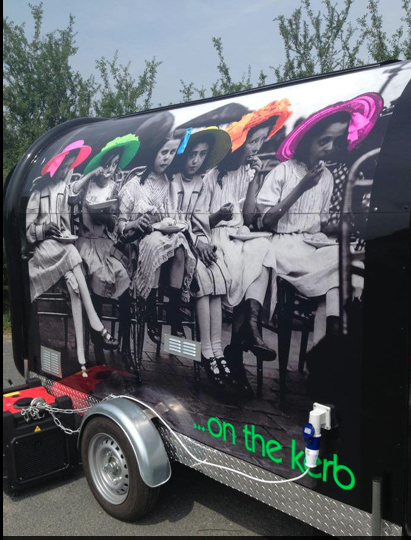 Street Food has evolved from the usual greasy aromas coming from your typical burger van to good quality food being served on the road side, usually found in Cities throughout the UK; On The Kerb has brought this concept to the streets of a small village in Altham.
Joanne Haworth founder of 'On The Kerb' told us "I have always loved cooking good food due to the inspiration of my mother Jean Haworth, she would always encourage me to get involved in the kitchen, it didn't matter how much money we had, we were always fed well with good traditional recipes"
After years of following Andy Bates and other famous chefs on TV, Joanne dreamt of bringing good quality food to the streets of Lancashire however, didn't have the capital. With much encouragement from her family and her mother's investment, Joanne was able to follow her dream partnering with her sister Andrea Eatough and her niece Lillie Eatough who works alongside Joanne in the catering pod.
The dream was to begin and the first steps were to find a good quality-catering trailer that would ooze quality and send out the right message to their potential customers. After many visits to second hand burger vans that still had that lingering smell of old grease, Joanne came across a company called Cater Pods, they offered a unique catering pod that was just what the trio were looking for - unique and quirky. James and Tom designers and developers of the catering pod brought their dream to life; they created a unique food pod that would stand out from the crowd.
Joanne, Andrea and Lillie said "James and Tom were absolutely fabulous from start to finish, they listened, developed, designed exactly what we wanted; a catering van that would stand out from the crowd. Their digital designer Adrian amazed us with his designs, we found the picture, colours etc. and he fulfilled our requirements beyond belief!"
On The Kerb hit the streets of Altham on the 22nd July 2013, offering high quality food to the Altham Industrial Estate, surrounding businesses and passes by; their menu includes 100% homemade steak burgers, daily homemade specials, soups and pies. The pod has an outside eating area that is attracting many office workers wanting to get away for their lunch and one guy said "I never thought I would be served homemade curry on the street!".
They have also committed to only using high quality, locally sourced food, offering only free range eggs, butchers meat, sausage and bacon; this is evident in the quality of food being served.
Joanne said "it has been hard work over the past two weeks but with so much support from her husband Martin, her daughter Laura and her family, it has been enjoyable and Lillie and I have met some great customers who keep coming back for more"
We suggest that even if you have never visited an establishment on the road side, this is a must; their pasta salads and sandwiches made on a varied range of breads can only be described as delicious.
Follow the girls on Facebook http://www.facebook.com/onthekerb to see their daily specials and they also offer their unique van/cooking for parties, events and business lunches. Situated on the Layby near the Ambulance station on Altham Road.
Subjects
---
Food & Wine