Press release
July 6, 2009
Construction
Light Tape UK Limited and ProGrip Systems are pleased to announce the launch of a new range of illuminated, Anti–Slip stair treads called PolyLight, available as Inserts for Aluminium Stair Nosing and as Full Depth GRP Anti-Slip Treads.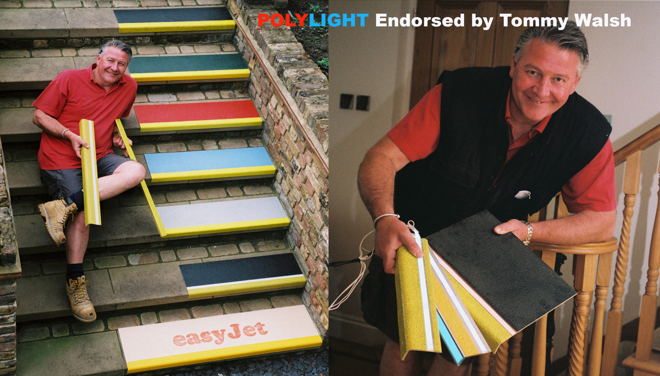 For more information go to: www.polylight.co.uk
Polylight anti-slip illuminated inserts have been developed to fit into standard Aluminium stair profiles, timber stairs and decking, PolyLight can also be supplied in sheet form to cover the full stair tread or landing.
PolyLight incorporates Light Tape® an ultrathin light bulb which is less than 1mm thick and allows stair nosing to be produced with a profile the same thickness as traditional non-illuminated products.

Polylight will be available in a variety of sizes with ether 12mm and 25mm illuminated strips for both indoor and outdoor stairs with up to 5 grades of anti slip, in a variety of colours for both the anti slip insert and the Light Tape. Polylights connections are embedded in resin making the product waterproof for outdoor use.
PolyLight has been fully endorsed by Tommy Walsh, expert builder and popular TV presenter, Mr. Walsh comments:
"This is one of the most innovative products I have seen, Polylight products will be a massive benefit to the Health and Safety industry"
The DDA (Disability Discrimination Act) has recently been updated to provide extra protection to the Partially Sighted, putting emphasis on both the illumination of Stairs and making columns and pillars in public areas more visually apparent. Light Tape can assist in both these areas with cost effective simple solutions.
Light Tape® uses less than one tenth of the power and is one third of the price of Neon and Cold Cathode display lighting, it is flexible, easier to install and maintain, reduces light pollution, produces no waste heat or infrared light, is fully recyclable, uses No Gas, No Glass and No Mercury.
For more information on Light Tape® e-mail: [email protected] or call on: 08456 170 697.

Light Tape® with its wealth of benefits, versatility, ease of application, cost effectiveness and extremely low carbon footprint is fast becoming the chosen, viable alternative to more traditional forms of display lighting.
(1 Watt per Meter at 25mm (1") wide, a 100m length of 25mm wide Light Tape® only uses the same power as a 100w light bulb).
###


What is Light Tape®?

Light Tape® is made up of metal ribbon coated in Sylvania phosphor and encapsulated in a Honeywell laminate. Light Tape® has no glass, no gas, and no mercury/heavy metals and so is user and environment friendly. Light Tape® provides an 85% - 90% energy saving against other commercially available light sources such as Neon and Cold Cathode and due to its thinness (just 0.5mm thick, as thin as a business card) and being lightweight, affords inherent flexibility of use providing a neater, modern, space saving alterative that is easy to install with little to no maintenance and has a long working life. For further information go to: www.lighttape.co.uk
About Light Tape UK Limited: Based in Barnsley South Yorkshire Light Tape UK Limited is the exclusive distributor for Electro-LuminX products in the UK and Ireland.

For further information please contact:
Mike Hardcastle, Managing Director

Light Tape UK Ltd.
7 Meadowfield Drive,
Hoyland,
Barnsley,
South Yorkshire.
S74 0QE

Telephone: +44 (0)845 617 0697 Mob: +44 (0) 7899 790 669

email: [email protected] web page: http://www.lighttape.co.uk/

Note to Editors: High resolution images are available contact: [email protected]
About Pro Grip Systems:Based in Colston Bassett, Nottingham ProGrip Systems Manufacture and Supply a wide range of Anti-Slip Surfaces for Industrial and Commercial uses.
For further information please contact:
Alan Herd
ProGrip Systems
Unit 2, Covert Farm
Colston Bassett
Nottingham
NG12 3FT
Telephone: +44 (0) 1949 81555 Mob: +44 (0) 7977 219 104
email: A HERD [[email protected]]
Subjects
---
Construction