Press release
January 24, 2017
INNOVATION
Prime minister.
Chemical
Consultancy
SME
High-value
Industry
MANUFACTURING
Global
Advanced
Research
Pharmaceutical
Process
Automation
Perceptive Engineering MD meets with PM during visit by regional cabinet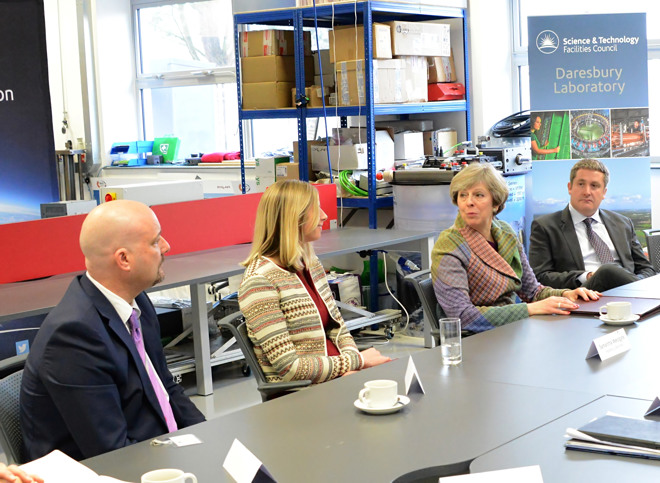 Prime Minister Theresa May has visited the Science and Technology Facilities Council (STFC) Daresbury Laboratories in Cheshire. This was the first ever meeting of the regional cabinet, during which the PM pledged £556 million to boost the Northern Powerhouse scheme.
The visit also provided an opportunity for business leaders from the Innovation campus to meet with the Prime Minister and discuss industry's role in post-Brexit Britain.
"This was a valuable opportunity to share with the Prime Minister the good, bad and ugly aspects of leading a small high tech business during a changing UK landscape", said Perceptive Engineering's MD David Lovett. "It was particularly encouraging to see engagement outside of the capital, with a clear message of countrywide Industrial Strategy. We look forward to seeing the Green Paper and actively contributing to the strategy."
Background Notes:
Perceptive Engineering is a SME established in 2003, with offices in the UK and Singapore that serve a global marketplace. They have developed a suite of advanced software applications that increase efficiency, reduce cost, and improve the environmental performance of complex industrial processes in a wide variety of sectors. Perceptive has been selected by multinational blue chip companies to help develop the next stage of pharmaceutical manufacturing, and have won numerous awards for innovation in water treatment, paper and steel making, nutritional ingredients and pharmaceuticals.
For more information, please contact [email protected] or visit their website at www.PerceptiveAPC.com
PHOTO: Courtesy of STFC Darebury Labs. David Lovett (left) meeting with other business leaders during Prime Minister Theresa May's visit to the high-tech innovation hub in Cheshire.
Subjects
---
INNOVATION
Prime minister.
Chemical
Consultancy
SME
High-value
Industry
MANUFACTURING
Global
Advanced
Research
Pharmaceutical
Process
Automation