Press release
June 16, 2014
Lampshade frames
Lampshades
Lighting
Bolton-based lampshade manufacturer, Premier Lampshades, adds another string to their bow.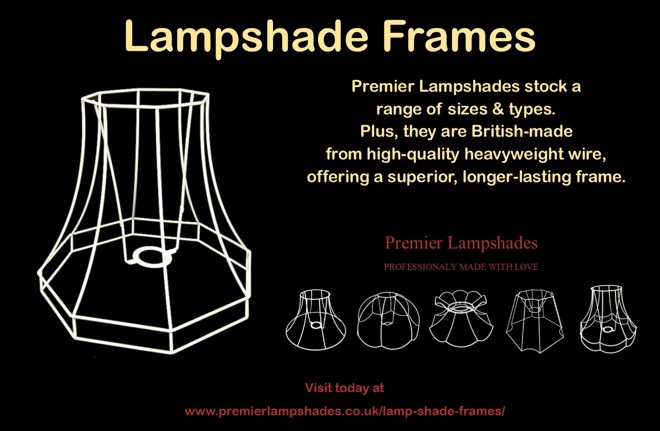 Premier Lampshades, a Bolton-based handmade lampshade manufacturer and repair service, has added another string to their bow – lampshade frames. From double scallop to dome of contemporary frames, their collection offers an extensive variety of shapes and sizes. With the new range of lampshade frames, they hope to provide a solution that can help enthusiastic hobbyists, the cottage industry, craft devotees, manufacturers as well as amateur lampshade crafters.
Handpicked Quality
Premier Lampshades has a long history, with roots in 1930's Manchester. Today, they continue their tradition of family values and true craftsmanship, and continue to strive for perfect craftsmanship. Each lampshade frame design has been picked and is used regularly by Premier Lampshade's designer and master lampshade maker Ian Holbrook.
The UK team is proud to offer high-quality British lampshade frames – an approach which matches their own ethos. The frames are made from heavyweight wire, which delivers a more durable frame.
Every shade is available in a number of different sizes, so they can be used for every different requirements. Whether a frame is required for a desk lamp or chandelier, there is a solution for every need. All of which are white, but can be spray painted different colours upon request to suit customers.
Free Shipping
Premier Lampshades offers 100% free shipping on all lampshade frames to mainland UK customers. There aren't any hidden costs or shocks at the checkout.
Range of Lampshade Frames:
Here is the range of frames:
Single Candle Frames
Octagonal Candle Frames
Contemporary Frames
Single Scollop Frames
Octagonal Frames
Dome Frames
Double Candle Frames
Bowed Empire Candle Frames
Crown Top Frames
Double Scollop Frame
Bowed Empire Frames
Inverted Square Corner Frames
Premier Lampshades endeavour to only supply quality products, fast service and friendly customer support. For more information, please visit www.premierlampshades.co.uk/lamp-shade-frames/. Or, if you would prefer to call please use 01204-414-366 or 01204-412-062.
Subjects
---
Lampshade frames
Lampshades
Lighting