Press release
February 12, 2011
Family
Planning your toddlers birthday party should be an exciting time, however many parents are filled with dread at the thought of the cost and the organising.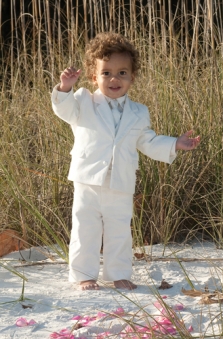 You want to throw a party for your toddler that will be fun and exciting however, you haven't got the bank balance of Posh and Becks well don't break out into a hot sweat; at Posh Tots Online we have put together some ideas to throw a great toddlers party without breaking the bank!
Firstly remember the party will mean more to you than your little one therefore you want to enjoy it too!
Who do I invite and how long should it last?
Small Toddlers can be overwhelmed by huge crowds, so don't go inviting everyone in your diary, only invite close friends and family that your Toddler knows. A huge mixture of strangers and known people can be stressful for toddlers
The party should last no longer than 2 hours, toddlers tire easily and any longer you will have a room full of irritated little ones.
The Venue - Home or Away?
If you decide to have your party at home remember that you will have to keep places safe for the little ones; keeping rooms off limits, upstairs access safe and moving any low level ornaments. Remember not all children have been taught not to touch! Children are curious and will want to go and explore their different environment.
If you don't want the headache of running around protecting your home from sticky fingers, curious little ones; your local church hall will be an ideal venue that will not cost you the earth and you will be able to take more control of the safety. Also a good idea is to have your party at a local park dependant on the time of year, you can really organise a picnic on a shoestring.
Get Volounteers!
Ask for help; family member and friends will be a great help at the party as little ones can be unpredictable in their behaviour. Tantrums, arguments, tears and disruption is usually on the cards where small children are concerned! Also they are a great help when playing games, serving food, wiping sticky fingers and faces.
Food
Don't be too extravagant and go overboard with food, toddlers usually want simple food and as adults we all enjoy a sandwich and a sausage roll! Many parents now prefer their children to be eating healthy food, so include some carrot sticks and fruit.
The cake is the focus; so get price quotes from your local bakers, they are usually just as cheap as the Supermarkets however, more adventurous in designs. Or you could pick up a cookery book and bake it yourself!
Party Bags and Invites
The internet is an ideal place now to design and print off your own personalised invites or you could visit companies like Circus Circus who do everything from party invites to party bags.
You can make up party bags for as little as £3 a bag or you could create party bags that have a theme.
Party Games
Be prepared, organise party games in advance; this gives you the time on the day to focus on the party and not entertaining the children. Party games should allow all ages to get involved and not too competitive allowing all of the toddlers to win something or you will have tantrums on your hands!!! Make sure your games are fun, entertaining and that you organise enough to fill up the time.
Party Entertainer
If you want to have an entertainer at the party then ask for recommendations from other parents, we've all been to a party where the entertainment was a flop! You need to make sure that you are investing your money wisely.
Your Toddlers Party Wear
Choosing the right party wear for your toddler is exciting as this is what will be seen on your pictures for years to come. It should also be practical as well as beautiful; you don't want your toddler to be restricted or uncomfortable on their special day.
Joint Parties
Even though it is your childs special day, joint parties can be a good way of cutting down the cost
Keep Calm
On the day keep calm, remember this is your day too and you want to be able to enjoy it as much as everyone else. Planning your day will be key to not having too many stressful moments on the day, ensure that your volounteers have dedicated roles throughout the day.
Last but not least enjoy the day and share the fun with your little one - for more related news please visit Posh Tots Online
Subjects
---
Family