Press release
February 27, 2008
Culture
Whilst working as a waiter in the Greenwich Village Gaslight Café in 1964 Pietro Psaier met Andy Warhol and an extraordinary bisexual relationship blossomed.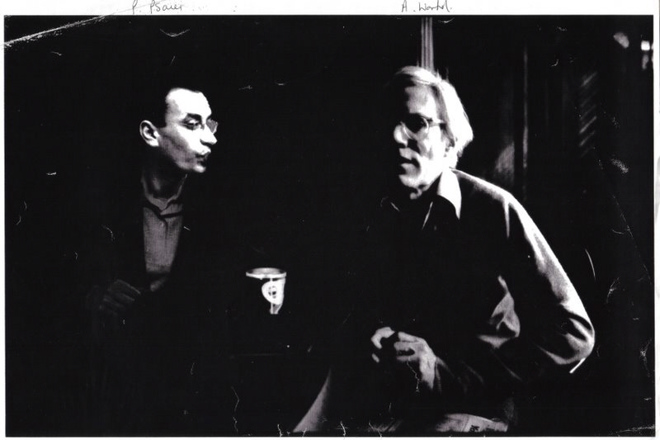 PIETRO PSAIER 1936-2004
'I feel I'm the most underground artist around, judging by my income. I've been young and I've been more worried about doing good work than in selling it'. -Pietro Psaier, talking to Pere Greenham, Downtown, 1993.
'Pietro Psaier has until recently been one of the most neglected figures of late 20thCentury art'. - Dr.Carlos Langelaan Alvarez, Madrid.
The Apprentice 1936-1960
Pietro Psaier was born in a small village outside Rome, Italy in 1936 and led an interesting and varied life. During the 1950's his father worked on concept sports car designs for Enzo Ferrari and Pietro, with his natural artistic talent often helped and worked as his apprentice.
The Warhol Years 1960-1970
Feeling lost in post-war Italy the young Pietro relocated first to Madrid and then in 1961 found his way to Soho, New York. Whilst working as a waiter in the Greenwich Village Gaslight Café in 1964 he met Andy Warhol and an extraordinary bisexual relationship blossomed between the two. Psaier began designing backdrops for Warhol's films and eventually produced layouts, silk-screens and joint works at Warhol's studio 'The Factory', although few artistic or financial rewards would come his way. While Warhol needed to trace and use a light box Psaier was a skilled artist with watercolours, oils and pencil. Some critics say that without Psaier and fellow artist Rupert Jasen Smith in the background Warhol could never have maintained production of the Factory commercial output but with dignity and style both men chose not to take the limelight from Warhol. Warhol nicknamed him "Peter the Italian" and their relationship continued on and off until the late 1960's.
'My shelter at the Andy Warhol factory was at a time soon after I arrived from Italy. I partied at the best places. While Andy worked on the motion pictures 'Flesh for Frankenstein' and 'Blood for Dracula' I acted as a conduit for the factory to compound music and art and to score drugs for a seriously destabilized pop culture. My friendship with Andy Warhol led me to change my style. I never capitalized on Andy's fame'.Pietro Psaier, 1993.
After his relationship with Warhol diminished Psaier continued to work by himself at a prolific rate producing hundreds of original pieces of art work. His most popular subjects included Andy Warhol, Marilyn Monroe, Mick Jagger, David Bowie, Freddie Mercury, Oscar Wilde, Jackie Onassis, The Clash, James Joyce, the Beatles, Francis Bacon, depictions of Christ and even Royalty.

The Big Name Clients 1970-1980
In the early 70's Psaier moved to California and together with Rick Griffin designed psychedelic rock posters for various bands.
During the late 1970's Psaier was commissioned by many famous stars from the Music and Film business to produce statement pieces for their lavish mansions. Works were produced for Keith Moon, Oliver Reed and Michael Caine to name a few. In 1974 Psaier became the second youngest artist to be awarded the 'Italian-American Institute of Art' 56th Annual Award, in New York, a prize given for inspiration to artistic Peers.
In 1978 Psaier and Warhol eventually reunited for a joint exhibition at Gallerie D. Brussels.
'My Warhol days took me to grand and glamorous parties from New York to Paris'. -Pietro Psaier, 1993.

Getting away from it all 1980-2000
In 1985 Psaier moved into Andy Warhol's apartment in Great Jones Street, New York and worked with Jean-Michel Basquiat for three months.
LaterPsaier travelled to Tibet and Nepal which allowed him to live a life far away from financial problems involving Agents and Lawyers in both Rome and Los Angeles. Eventually Psaier found himself back in Madrid and once again became enthralled in the world of Bullfighting and action sports which he always greatly enjoyed painting scenes of. Psaier often created art works which were leased to individuals and companies and were replaced at regular intervals to keep up with the ever changing fashions, many famous Recording Studios, Restaurants, Cafés, Galleries and others including Anna Nicole Smith had his work on display.
'My art in most cases in not an assignment, I do it because I really want to produce my work'.- Pietro Psaier, 2003.

The Millennium, The Passion of the Christ & the Tsunami
In September 2004, Pietro Psaier was asked by Our Lady of Malibu Church, high above the Malibu coastline to exhibit his highly acclaimed series The Passion of the Christ. Created to accompany Mel Gibson's film of the same title, the series of sixteen acrylics on canvas are the last known works to have been created by the artist and were sold by John Nicholson Auctioneers in December 2006.
As a result of the Indian Ocean earthquake which struck on December 26th 2004 and the Tsunami which followed, Pietro Psaier's remote beach house on the coast of Sri Lanka was swept away and his body was never found.
Remaining works at Auction
Pietro Psaier had a very fertile mind and created countless numbers of works throughout his life, many of these works were not sold but stored by Psaier and his family. Since his death Psaier's family have periodically released selected pieces of his work for sale at auction by John Nicholson Auctioneers and they have proved extremely popular.
Pietro Psaier - his memory lives on with a Biopic at Cannes Film Festival
Recently PSI Films, an independent film company set up by Paul Sullivan, have been making a film about the life of Pietro Psaier. Since graduation from the State University of New York, Paul Sullivan moved to London and began training with the BBC in Television and Radio production. Paul has produced and directed several documentaries and Docu/Dramas. In 2004 Paul's interest in the fifties and sixties found him as Co-producer and Director of Angels Still Falling, a biopic about the life and work of the Beat Generation writer, Jack Kerouac. The production was taken to the Cannes Film Festival this year and was well received. It is his interest in the fifties and sixties combined with an avid interest in art that has lead Paul to go into pre-production of a biopic about Pietro Psaier which is also hoped to be shown at a forthcoming Cannes Film Festival.
Subjects
---
Culture
Pietro Psaier & Andy Warhol in the studio
Download | 0.08 MB | 533 x 800 | .jpg
Zip and download all files