Press release
August 9, 2013
Lifestyle
The online flower ordering industry is one that has had a lot of bad press in recent months due to a lack of customer service, late deliveries and companies making it near impossible to navigate their websites; Order Flowers are giving the whole of the UK a solution and offering a reliable service from start to finish.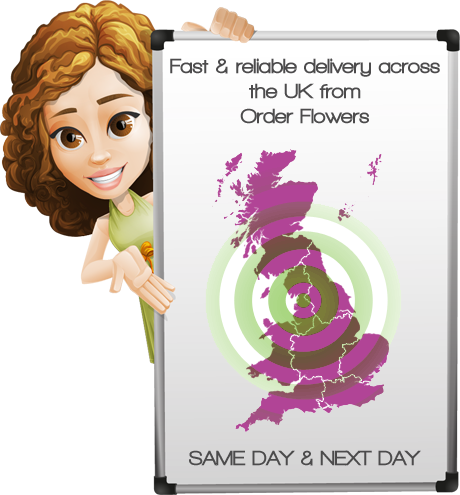 Many sectors have come under the public and media spotlight in recent years for failing to deliver on what they promise to consumers time and time again; the online flower ordering industry is one of these sectors to have had a lot of negative publicity.
You might think that it would be easy to order flowers online - it should be; however a lot of the so called "big firms" have shown a total lack of customer service, failed to delivery consistently and make it damn near impossible for people to use their website in an easy and navigable manner.
Order Flowers Ltd, who are based in Kent, have decided to do something about this and are offering UK consumers the chance to easily order flowers online with a choice of guaranteed delivery options and a secure checkout facility; sounds simple - it is!
They have just launched their new website after years of monitoring competitors that have been sending the sector into decline and decided that now is the time to give something back to the UK public whilst there is still some faith in the industry.
Offering a simple product selection and checkout process has been the ultimate goal that has been achieved since day one, they've had great feedback on their design, layout and service combined from site visitors and satisfied customers without one single complaint thus far.
With offerings such as a 100% satisfaction guaranteed policy, Order Flowers are cleaning up the industry day by day and making sure that their customer's needs are always number one priority ahead of just taking orders for financial gain.
Working with a network of trusted, proven and reliable local florists throughout the nation means that Order Flowers can cover the whole of the UK with the minimum of fuss and ensure your flowers arrive on time, in the right place and in perfect condition.
Big things are expected over the next 12 to 18 months in terms of company growth; if the first three months of trading are anything to go by the industry will soon have another "big name" alongside some of the longer established players.
Why not give the site a visit for yourself at http://www.order-flowers.co.uk and take advantage of the Order Flowers free delivery on all orders offer throughout August.
Order Flowers are also offering a voucher code for use throughout this month, simply enter SAV15 and you can save 15% on your order alongside free delivery.
Subjects
---
Lifestyle