Press release
August 15, 2011
IT
Understanding the needs of Mac users in the UK, NLMS have chosen to widen their Mac Repair availability across Greater London and include Central London, East London and West London.
Apple has become the most valuable company in the US with huge cash reserves available and a widening product line. New products in the pipeline include the iPhone 5 and iPad 3 which may be released sooner than we expect...
Although the lure of new Apple products is enticing North London Mac Support find that more and more Apple product users in and around London prefer to continue using their existing MacBook, MacBook Pro, MacBook Air, iMac, Mac mini and Mac Pro models rather than upgrade or buy new versions North London Mac Support chose to cater to their needs and extend their well-known Mac Repair service to more areas across London.
The Mac technicians at North London Mac Support can help by offering their expertise and know-how in prolonging the usuable life of your Apple computer, notebook or device. Taking full advantage of services such as free diagnostic inspections, hardware and software support, upgrades and replacement parts are merely a few of the economical options now available to you in most parts of Greater London.
MacBook and MacBook Pro Repairs:
Providing high quality repairs for accident or spillage damaged MacBook and MacBook Pro models is a niche for North London Mac Support and this invaluable service has already helped many Mac users in London and the UK when a disaster occured. Being highly skilled in the repair and salvage of portable Apple computers that seem to be only good for the rubbish tip is often considered a 'life-saver' for private and business Apple owners. North London Mac Support's success rate is extremely high when it comes to resolving such sudden accidental damage and offering a no-fix, no-fee repair service means there is nothing to lose but to try.
Therefore if you have a problem or issue with your out-of-warranty Apple Mac and find yourself with a dliemma in appointing an independent professional support service you can get the assistance you need at NLMS.
Reviews on the Mac Repair service provided by NLMS are all over the internet if you wish to see what others have to say about the professionalism and customer-focused service you can expect to receive.
For further information and for any Mac repair enquiry please visit the NLMS website
Subjects
---
IT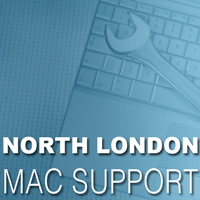 North London Mac Support is the local repair and upgrade service for Mac users across the capital offering over 20 years of Mac expertise, free diagnostics, cost effective repairs, fast turnaround and seven day availability.
Download | 0.03 MB | 200 x 200 | .png
Zip and download all files