Press release
May 24, 2011
IT
Apple seems to be revamping their retails stores by installing iPad2's next to all its products. read on for more information on this matter - if you require help or advice with any Apple Mac issue visit our website or call direct today...
The iPad2 will allow you to view any product information, and price comparisons. They will be replacing the 'old fashioned' style index cards.
Basically the need of talking to a human customer representative is zero to non. But of course if you do find the need to talk to 'a genius' there is an option button on the corner of the iPad2 screen to request a member of staff.
Through a specially designed app, called iQueue, your request will be sent to a sales representatives iPhone. Whoever is available can accept your request and find your exact location within the store. Alternatively you can also make an appointment with the genius bar.
So has Apple created an ingenious cost-cutting friendly way of the overhaul shopping experience? So far there are mixed reactions.
As the displays are locked in it will be difficult for people in wheelchairs to access the devices.
Also for the more eco conscious Apple user is this really a greener way of practice as the iPad2's will run even when business is closed.
On the other hand some people argue that they are unable to purchase a wifi only iPad2 in store while there are so many of the devices being used all around the shop.
Apple's distinctive look might also be compromised by cables running al over the place to allow the displays to allow the displays function.
But of course the true Apple fans seem to be impressed by their experience and find the concept very cool and exciting.
...The real question in all of this is how interactive can an iPad really be?
If you need a Mac Repair or some Apple Support visit the NLMS website or call 08445 882 322 anytime...
Subjects
---
IT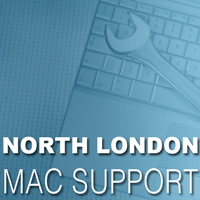 North London Mac Support is the local repair and upgrade service for Mac users across the capital offering over 20 years of Mac expertise, free diagnostics, cost effective repairs, fast turnaround and seven day availability.
Download | 0.03 MB | 200 x 200 | .png
Zip and download all files