Press release
September 14, 2012
Motor & Transport
Night driving glasses with yellow lenses have been the subject of many debates between industry "experts". Many media reports have deemed them as dangerous, whilst wearers of night driving glasses speak with glowing reference about their benefits.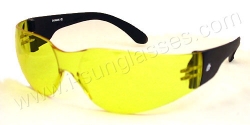 It is always good to see a bit of divided opinion on any subject, in the sunglasses and eyewear industry there has been much recent and long term debate surrounding one particular range of products; night driving glasses.
Countless media articles, reports, blog posts and headlines have been written by supposed "experts" in the eyewear industry, quite often these reviews have slated night driving glasses for being dangerous to wear and for blocking out light that is vital for navigating roads in a vehicle during hours of darkness.
To counteract these claims there are thousands of forum questions, responses and product reviews on the internet from people looking to discover the benefits of wearing the product or shouting from the rooftops about how good they are at reducing head light glare, preventing head aches and migranes whilst driving.
So who is right and who can you trust?
Again, this question does not have a simple answer. Leading online retailer of eyewear, i*Sunglasses have recently launched their own range of night driving glasses, also referred to as yellow lens sunglasses, their reasons behind creating their own in house range has been simple; public demand.
Many people with eyes sensitive to light have found that bright glare from headlights and prolonged exposure to it can give them migrane like symptons and actually induce a degree of tiredness which affects their driving performance. Wearers and fans of night driving glasses have sworn that the yellow lenses reduce glare significantly enough to make a huge difference to their driving in darkness with headlights constantly glaring in their eyes.
Of course it is true that certain types of yellow lens sunglasses could filter out too much light and that would render them dangerous to use; however i*Sunglasses range of night driving glasses have been manufactured and tested to European and British safety standards so that they trasmit way more than the minimum 75% legal requirement.
Not only that, they have created designs that should appeal to varied personal tastes in design and style of eyewear. From sports to retro designs i*Sunglasses have stuck by their guns when it comes to creating a new eyewear range; public demand and a wide range of choices.
For now it seems as if the jury is out on a solid answer on the benefits of night driving glasses, maybe with the introduction of new ranges of the product by reputed online retailers it will once again force the "experts" to give their analysis; for now all we can say is that public demand and positive reviews make yellow lens night driving glassesa popular choice of eyewear.
For more product information please visit http://www.i-sunglasses.com/Night-Driving-Glasses or email [email protected].
Contacts
---
Subjects
---
Motor & Transport