Press release
April 9, 2009
Motor & Transport
Cartridge World Carbon Zero Racing and drivers Adam Jones and Dan Eaves take 6 top ten finishes BTCC round one at Brands Hatch.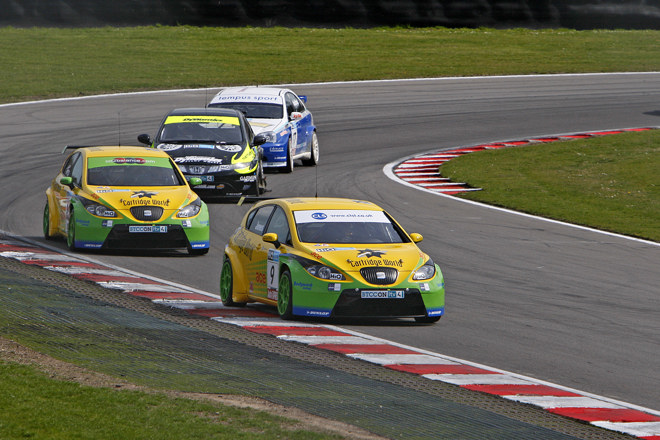 Cartridge World Carbon Zero Racing and drivers Adam Jones and Dan Eaves made their mark at the opening round of the 2009 HiQ MSA British Touring Car Championship at Brands Hatch on Sunday with 6 top ten finishes in the 3 races, with a best of a 5th place for Adam in the opening race.
New team mates Adam Jones and Dan Eaves started the 2009 HiQ MSA BTCC in 10th and 12th places on the grid for the Cartridge World Carbon Zero Racing Team. Running 2 beautifully prepared bio-ethanol powered SEAT Leon's the new team has quickly gelled with the two drivers only a tenth of a second apart at the end of qualifying. The striking yellow and green Cartridge World livery will be easy to spot for fans and competitors alike during the 30 race season.
Dan Eaves on his return to the BTCC said: "It was a good session for me, with a few minutes left I was on a flyer, but ran wide on Graham Hill bend and with dirty tyres I couldn't push it, otherwise I think we could have had two cars in the top ten".
After a spirited drive in race one, which saw the safety car out twice, Adam Jones worked his way into a very credible 5th spot using the race craft that saw him take 6 podium finishes last year. Jones had a race long battle with Jason Plato which eventually went the Cartridge World Carbon Zero racers way. Dan Eaves marked his welcomed return to the BTCC with a solid 9th place.
In race two Jones and Eaves, starting from 5th and 9th on the grid, spent most of the 24 lap race barley feet apart and they eventually finished in 7th and 8th positions. Eaves had a strong battle with Harry Vaulkhard, that saw the pair side by side down the hill into Graham Hill Bend on several laps, before Eaves opened up a gap that remained to the finish.
In the third and final race of the day the positions were reversed with Dan Eaves taking 6th place and Adam Jones 7th place, the Cartridge World Carbon Zero pair finishing barley 10 seconds apart.
The new team had much to celebrate at the end of a sunny day in Kent. With six top ten finishes the team has put down a marker for the season as everyone knows there is more to come from the bio-ethanol powered SEAT Leon's.
Jones, who finished 3rd in the Independent Drivers Championship and 9th in the overall Drivers Championship last season, had this to say before leaving the Kent circuit: "It's great to be back behind the wheel and I'm delighted to be in a team that has worked so hard to bring the two cars to the grid. The safety car helped me preserve my tyres in race one and I had good pace throughout the race and 5th was a good result". At the end of round one of the 2009 BTCC Jones is in 6th place in the Drivers Championship and Eaves is in 10th place.
The team has three weeks to reflect on a good opening day in Kent and time to develop their cars before they head south, once again, to Thruxton for round two of the HiQ MSA British Touring Car Championship which will be held at the Hampshire circuit on Sunday April 26th. Cartridge World Carbon Zero Racing in conjunction with co2 balance, the team's award winning carbon offset partner, is delighted to be able to offer all race fans traveling to the circuit by car, an opportunity to follow the lead set by the team and offset their own car's CO2 emissions for as little as £2.50. The team is proving in more ways than one that it is determined to leave its mark on the championship and not on the environment!
ENDS
Issued by Dark Arts Marketing on behalf of Cartridge World.
Images © 2009 Cartridge World. Permission for reproduction of these images in conjunction with this release is granted.
Contact John Bradley. [email protected]
Tel 01332 856 999 or 07872 600 868.
Or Faye Coton. [email protected]
Tel 01332 856 999 or 07872 600 865.
Notes to Editors:
Cartridge World has almost 300 stores in the UK. It was launched in Australia in 1988 and now operates more than 1,600 franchises in over 60 countries worldwide. Over 47 million empty printer cartridges are sent to landfill in the UK each year*. Cartridge World promotes the refilling and reuse of printer cartridges as a cost-effective and environmentally-friendly alternative to sending them to landfill. For further information on Cartridge World, visit www.cartridgeworld.co.uk.
*Recycler magazine, December 2000.
The HiQ MSA British Touring Car Championship (BTCC) celebrated its 50th anniversary last year. It's the UK's premier domestic motor racing series with 10 events and 30 races in the season. It's contested by professional racing drivers in competition versions of every day road cars, giving it tremendous public appeal. Around 300,000 watch the BTCC trackside each year and over 1 million viewers tune into the live coverage on ITV4. For more information visit www.btcc.net
HiQ (part of Goodyear Dunlop) became the MSA BTCC's title sponsor in 2008, replacing Dunlop, in a new three-year agreement. It provides a fast-fit car care service at its 150 centres across the UK. In the next two years, that number will rise to 250 as HiQ embarks on revolutionising the fast-fit industry. It has already taken the lead by offering a unique online service www.hiqonline.co.uk for motorists to buy tyres and arrange a fitting appointment.
Adam Jones-Race Driver
Adam was born in 1980 and raised in Birmingham, UK. He enjoyed great success in Karting up to the age of 17 and he was the ICA British Junior Champion in 1996.
In 1998 Adam joined the ELF 'fastrack' young driver's scheme and won the Ayrton Senna Memorial Cup in Suzuka, Japan. In 1999 and 2000 Adam competed in the French Formula Renault Campus Championship in 1999 taking the overall Championship with 9 wins and the Formula 3 Promotion Class Championship in 2000. Adam competed in the British GT Championship and the FIA GT Championship, at the wheel of a Porsche GT3, in 2001-2003. His best finishing position being a second place at Estoril, Portugal.
In 2004 Adam moved to the Le Mans endurance series, this time driving a Porsche RSR. He won the Nurburgring race with Sacha Maassen. In 2005 Adam won the French Ledonon 3 hour race in a Porsche GT3 and came third in the Britcar 24 hour endurance race at Silverstone sharing the drive with ex-BTCC champion Tim Harvey.
In 2006 Adam competed in the BTCC for the first time. He competed in 17 races with a best finish of tenth. The following year Adam continued to race in the BTCC and he scored a notable second at Donington Park, competed in 15 races and finished in the top 10 on 14 occasions. He ended the year in fifth place in the Independent driver's championship.
In 2008 Adam competed in the BTCC once again but completed a full season at the wheel of a Seat Leon. Adam 'punched above his weight' all season and put in some spirited drives to finish 3rd in the Independent Drivers Championship and 9th in the overall Drivers Championship.
Highlights of his 2008 season were four 2nd places and two 3rd places giving Adam six well earned appearances on the podium during the season. The 2009 BTCC gives Adam another opportunity to show his considerable talent alongside another highly rated driver, Dan Eaves.
Dan Eaves-Race Driver
Dan was born in1975 in Worcestershire, UK. He started racing karts in 1990 before switching to cars in 1994. He raced in the National Saloon Cup in 1999 and 2000, finishing 4th in the series both times with a Bowman Motorsport Peugeot 306.
In 2000 Eaves entered 2 rounds of the BTCC in the Bowman Motorsport 306. When Vic Lee took over the team in 2001, Eaves was retained to drive in a new factory Peugeot entry in a Peugeot 406 coupe. This was a transitional year for the championship, and Eaves finished 5th out of a fairly thin field, although he beat veteran team-mate Steve Soper.
In 2002 Peugeot pulled out of the BTCC but the team remained, with Halfords backing and with Independent status. Eaves won Indy honours ahead of former Superbike racer Aaron Slight, and team-mate Tim Harvey.
In 2003 his team-mate was Carl Breeze and later Danny Buxton, this time in a VLR-built 307, and after a slow start he was Independent class winner several times. The team pulled out before 2004, but Dan found a drive with Team Dynamics in a Honda Civic. He was 8th in the standings that year, taking his first ever championship wins.
In 2005 Eaves continued racing with Team Dynamics, which was entered as Team Halfords for the first time, racing a Honda Integra. He recorded five wins, including 3 at Thruxton - the first and so far only time that one driver has won three BTCC races in one meeting. He also won the final race at the Croft circuit in Yorkshire. Eaves ended his 2005 season with a fight to take second place in the championship. It ended with a controversial crash with Yvan Muller. Muller retained second place in the Championship and Dan finished in third place, four points behind the Frenchman.
Subjects
---
Motor & Transport